Lynn
Workers' Compensation and Real Estate Lawyers Serving the Lynn Area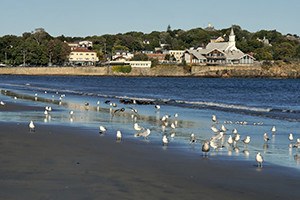 Whether you are buying your first home or filing a workers' compensation claim after suffering serious injuries on the job, you should consult an experienced attorney. The repercussions of the actions you take now may be felt for years to come, and it is important to obtain sound legal advice at the outset. At Pulgini & Norton, our Lynn real estate attorneys can guide you through a property transaction even before you identify a property for which you want to make an offer. Our workers' compensation lawyers also can help you navigate the dispute resolution process in a claim for benefits.
Pursuing Benefits after a Workplace Accident
One common reason that insurers give for denying valid claims is that the worker's injury arose from a pre-existing condition. You should not assume that your claim is not covered if you have a pre-existing condition. Injuries that occur on the job are presumed to be job-related. In Massachusetts, you can potentially recover benefits if your job aggravates or exacerbates a pre-existing condition. For example, you might have a degenerative disc disorder that is usually under control, but if your job as a construction worker forces you to repeatedly lift heavy objects, and you are unable to work for weeks due to a herniated disc and impacted nerve, you may still be able to recover benefits. You would need to show that your job was a major cause of the disc herniation.
Your job does not need to be the primary reason for the injury in order to receive benefits. You can prove that the job exacerbated the injury by showing that you required emergency care or medical treatment, were unable to perform your usual tasks, were put in restricted work hours, or involuntarily lost your position.
Guidance in Home Purchases and Sales
If you are buying residential real estate, you should retain an attorney to look into the deal and determine whether there are any restrictions on the land and what sort of interest you would have if you purchased it. Generally, there are very few affirmative disclosures that sellers must make without being asked in Massachusetts.
In some cases, there may be easements or other restrictions on your use of the property. For example, a conservation restriction may prohibit certain types of development. It gives a government agency or conservation nonprofit rights that would allow it to block future development on the property. Similarly, if there is an access easement that burdens your potential home, and it runs to the benefit of the property's neighbors so that they can access the shore, you may be prevented from developing your property in the way you had hoped.
Consult a Lynn Attorney for Your Workers' Compensation or Real Estate Needs
The largest city in Essex County is Lynn, which is located near where the Atlantic Ocean meets Massachusetts Bay. Historically, it was known as the "City of Sin," but its downtown was revitalized with arts, culture, and entertainment in the early 2000s. If you are planning to move into the area, or you have suffered an accident on the job, our Lynn workers' compensation lawyers and real estate attorneys are available to assist you. Contact Pulgini & Norton at 781-843-2200 or through our online form for a free consultation.