Newton Real Estate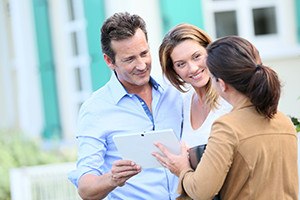 Legal Guidance for Residents of Newton on Property Transactions
For most people, the purchase of a home is one of the biggest and most expensive transactions of their lives. While it is often a joyous occasion, the decision can also carry a degree of risk. Without a strong purchase contract, a home inspection, and a consideration of title issues, a home purchase can prove to be more expensive than expected over the long term. If you are buying or selling real estate in the Newton area, therefore, you should consult the experienced attorneys at Pulgini & Norton.
Buying or Selling a Home
Unlike some other states, Massachusetts still follows the general rule of caveat emptor or "buyer beware." However, real estate brokers and sales people are required to distribute home inspection brochures to buyers upon signing the first contract. A broker is required to disclose facts that would influence the buyer not to enter into the transaction. What sellers are required to disclose is extremely limited. They must disclose the existence of lead paint and a septic system. If the house was built before 1978, the seller must give prospective buyers a notification package under Massachusetts' Lead Law.
Sellers and brokers do not have a duty to affirmatively disclose information that a property is "psychologically impacted." A property is considered psychologically impacted if it is occupied by someone with HIV, the site of alleged supernatural activity, or the site of a murder, suicide, or felony. However, if asked directly, they must tell the truth.
It is crucial for buyers to conduct a home inspection or any other inspections that might be necessary. Serious structural or environmental defects may need to be repaired. You should be aware that home inspections are visual, not exhaustive. Licensed home inspectors do not report on things that are underground or not immediately accessible. If structural defects or mold is suspected, you should retain separate inspectors for these concerns.
Although a standard offer to purchase form includes contingencies related to home inspections, giving the buyer 5-10 days to complete a home inspection, it may be appropriate to negotiate an alternate period of time depending on your circumstances. Moreover, you and the seller will need to negotiate who performs and pays for any repairs that may be necessary.
If you are responsible for repairs by contract, you should make sure that a licensed contractor performs the repairs. When repairs are at issue, they may trigger the need for inspection by the lender's underwriters. In case repairs to the problem areas cannot be completed, or it is not possible to repair the problematic condition, your attorney can help negotiate in advance that you can provide notice and a copy of the inspection report to get the deposit back.
Discuss Your Real Estate Matter with a Newton Attorney
Newton is a suburban city made up of 13 villages, approximately seven miles west of downtown Boston. Its population is about 85,000 residents. Money magazine has ranked it the fourth-best small city to live in the United States. The property transactions lawyers at Pulgini & Norton can advise Newton residents on home purchases or sales. Call us at 781-843-2200 or contact us via our online form for a consultation.