Boston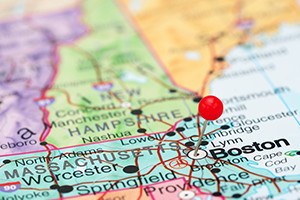 Boston Lawyers Skilled in Real Estate Transactions and Workers' Compensation Claims
Boston is the capital of and largest city in Massachusetts. It is home to over 645,000 residents, while the metropolitan area has a population of more than 4.5 million people, according to the 2010 U.S. Census. It has played a critical role in American history, and it continues to be a magnet for change and innovation. With its well-known universities and colleges, Boston and the surrounding area attract leaders in higher education, medicine, and biotechnology. The city has one of the strongest economies in the nation. Its character and diversity make it a desirable location for many individuals and families. A Boston workplace accident attorney at Pulgini & Norton will be happy to assist you with pursuing benefits after an injury or illness on the job. We also are available to help individuals with real estate matters. Our knowledge of these complex legal areas can help protect your rights and interests.
Buying or Selling a Home
Residential real estate transactions often deal with complex state and city-specific regulations. In the purchase and sale of property, for example, Massachusetts requires that the seller convey good, clear, and marketable title to the buyer. It is necessary to do a title search to determine if there are any clouds on the seller's title. He or she then would need to clear up any issues to close the deal.
If a property owner wishes to convert a multi-family unit into a condominium, it must follow Boston's regulations on condominium conversions. Tenants must receive at least one year's notice of the owner's intent to convert the unit into a condominium under both Massachusetts law and Boston ordinance. However, the city requires that property owners give certain types of tenants, such as the elderly or disabled, five years' notice of their intent to convert the unit.
Real estate transactions involve numerous documents that must be carefully reviewed and drafted. The purchase and sale agreement, for example, lays out the rights and obligations of both the seller and the buyer. This document includes basic information about the transaction, including the purchase price and property location, but a number of provisions should be reviewed and negotiated. A buyer will likely want to secure a favorable mortgage contingency provision, for instance, whereas a seller will want to settle on a closing date that is timely. Lenders will also want to ensure that there are no encumbrances, liens, or other title-related issues that could affect a lien on the property. At Pulgini & Norton, we can work to protect your interests and facilitate a smooth transaction.
Seeking Benefits After an Injury at Work
Workplace conditions can sometimes cause accidents and illnesses or aggravate pre-existing medical conditions. Injured workers in Massachusetts can seek coverage for their medical care and lost wages by filing a claim for workers' compensation. This insurance system, which is required by state law, provides medical, wage, and other benefits to individuals with job-related injuries or illnesses. Medical benefits include coverage for reasonable medical expenses associated with treatment. Wage benefits will depend on whether the worker's injury left him or her with a permanent total disability, total temporary disability, or partial disability. We can help you file for these benefits or represent you if your claim is denied.
If a third party is at least partially responsible for a workplace accident, an individual can seek damages through a personal injury claim. A worker may also be eligible for Social Security Disability Insurance (SSDI). Both a third-party lawsuit and SSDI benefits can have an impact on a workers' compensation claim, however. We can assess how these factors could affect your chance to get benefits.
Explore Your Rights and Options with a Boston Work Place Accident Attorney
The workers' compensation and real estate lawyers at Pulgini & Norton have practiced law for over 40 combined years. We are skilled drafters and negotiators who can review pivotal documents and facilitate a real estate transaction. If you were hurt at a job in the Boston area, a workplace accident lawyer can assist you with your workers' compensation claim or any obstacles that you may face. Our dedication to client service means your case will get the attention it deserves from seasoned and knowledgeable attorneys. Call our office today at 781-843-2200, or you can contact us online to schedule a confidential consultation.