Brookline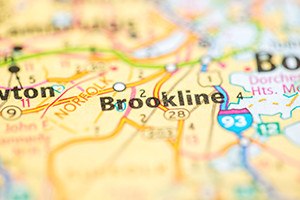 Skilled Real Estate and Workers' Compensation Attorneys Protecting the Interests of Brookline Residents
Located in Norfolk County, the town of Brookline is bordered on three sides by the city of Boston. The town was considered a part of the neighboring city until it was independently incorporated in 1705. Brookline is regarded as a commuter suburb, and it is known for its upscale shops, restaurants, and large estates. The town is also home to the Country Club, one of the five golf clubs that formed the U.S. Golf Association, and it has hosted both the U.S. Open and Ryder Cup matches. If you need legal assistance in the Brookline area, the dedicated workers' compensation and real estate lawyers at Pulgini & Norton can help you. We have decades of experience representing clients in these legal matters and others.
Buying or Selling a Home in Massachusetts
If you want to sell or buy a home, you will need to review and negotiate a number of agreements and documents that could affect the sale. A seller, for instance, should review his or her listing agreement with a real estate broker. This document explains what the broker will do to market the property and find a buyer, as well as the broker's compensation. Most brokers will want an exclusive agreement, meaning that only that particular broker can market and sell the property during the term of the agreement. It also means that the broker will expect the seller to pay the commission no matter who finds the buyer, even if that person is the seller.
A buyer will make a formal proposal to purchase a property with a written offer. The offer comes in the form of a standard agreement that includes the purchase price, property address, and deposit amounts. Although it is a standard form, the offer includes provisions that could affect the parties' ability to move forward with the sale. For example, the offer may be contingent on the results of a home inspection. A buyer will want to include an extensive list of the types of property defects that would give it a right to rescind the offer, while a seller will want to limit that list.
Both parties will heavily negotiate the purchase and sale agreement. It describes what each party must do in order to close the transaction. For instance, a buyer will need to secure financing by a certain date, and the seller will have to clear any title issues. If there were any property defects or concerns found during the inspection, the parties will address how to resolve the issues in the purchase and sale agreement.
If you are purchasing a unit in a condominium, you should review the condominium's bylaws and covenants, conditions and restrictions (CC&Rs). Both documents will help you understand how the homeowners' association (HOA) functions, and what rules you must comply with as a new owner. For instance, if you own a pet, you should be aware of the HOA's pet policy before you decide to purchase a unit. Other documents that should be carefully reviewed in any real estate transaction include the financing documents, title report, and any local zoning rules.
Applying for Benefits After an Accident on the Job
You may have the right to claim workers' compensation benefits if you are hurt at your job. Employers in Massachusetts must have this type of insurance in the event that a person is injured or becomes sick at work. To qualify, your condition must be job-related, and you have to miss work for a minimum of five full or partial days. Benefits include compensation for lost wages and medical costs. Although you cannot sue your employer for a workplace injury, you can seek double the amount of your benefits if its egregious misconduct caused your harm. If your claim is denied, or if the insurer wants to change your benefits, you can appeal to the Department of Industrial Accidents (DIA). We can represent you in an appeal and help negotiate a settlement on your behalf.
Seek Advice on a Property Transaction or Work Injury Claim in Brookline
The capable property transactions and workers' compensation lawyers at Pulgini & Norton guide individuals in Brookline through a broad range of complex cases. We review, draft, and negotiate real estate documents to protect our clients' interests. Our attorneys are also seasoned advocates with substantial experience representing injured employees in workers' compensation claims. Call us today at 781-843-2200 for a consultation, or fill out our online form.