Dedham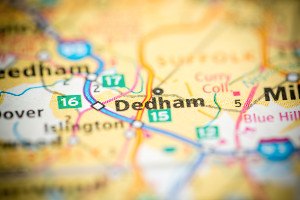 Legal Guidance in Dedham for Real Estate and Workers' Compensation Issues
Real estate and workers' compensation matters are often complex and may have high stakes. What home you buy (and what mortgage you obtain) as well as whether you receive benefits for disabling injuries or illnesses while unable to work can have a huge impact on your quality of life. The real estate and workers' compensation attorneys at Pulgini & Norton can provide Dedham residents with knowledgeable legal advice and representation regarding these concerns.
Pursuing a Property Transaction
If you are buying a home for the first time, you may not understand all of the details in the legal documents involved. However, there are a lot of obligations that you may need to understand in order to avoid a penalty, like a loan commitment date. You will also need to make sure you are getting clear and marketable title and that the zoning in your neighborhood works for you. It is important to understand the terms of your mortgage as well. They can affect your budget for years to come.
Easements are another matter of concern that may come up during the purchase of a home. They give someone else, such as a neighboring property's owners, the legal right to use your property in a particular way.
Easements are usually found in the registry of deeds. However, some easements arise by implication, and some easements are prescriptive. Easements by implication are not recorded in the registry of deeds, but they exist when the circumstances show an easement was intended. Prescriptive easements are acquired by using land in an open and notorious manner for 20 years. In order to acquire a prescriptive easement, the use must also be adverse to the owner's interests, meaning that it is not permitted. For example, if the neighbors running an in-home daycare use a path in your back yard in order to access a playground for 20 years, and you neither permit it nor take any legal action to interrupt and stop it, a prescriptive easement may be created.
Seeking Benefits after a Workplace Accident
The workers' compensation system was designed to provide benefits to employees for job-related injuries or illnesses, regardless of their fault for them. You can potentially receive temporary total incapacity benefits once you are unable to work for six or more nonconsecutive calendar days, due to your job-related illness or injury. The benefits will be 60% of your gross average weekly wage, up to the state's average weekly wage.
You can obtain these benefits for up to 156 weeks. However, if you are permanently disabled and completely unable to work, you may apply for permanent benefits, even if you have not exhausted your temporary benefits. Permanent benefits are 2/3 of your average weekly wage, or at least 20% of the state average weekly wage. This can be adjusted every year for the cost of living. You may be able to receive these as long as you are still injured or ill because of work.
You may also be eligible for medical benefits and rehabilitation benefits. The medical benefits include adequate, reasonable medical care, as well as reimbursements for your prescriptions and mileage reimbursements related to your travel to and from doctor's appointments. In some cases, an employer is entitled to designate a provider within its plan for the first doctor's visit. Moreover, the employer's insurer may send you to a doctor for periodic evaluations of your disability. However, you are entitled to pick a provider of your choice that accepts workers' compensation insurance for your treatment.
Enlist a Dedham Attorney for a Work Injury Claim or a Property Transaction
Located in Norfolk County in Massachusetts at the border of Boston, Dedham is a town with a population of about 25,000 residents. Some notable residents in sports and arts have included Pete Hamilton, Louisa May Alcott, Anita Shreve, and Connie Hines. If you suffer job-related injuries and need to file a claim for benefits, or you need to buy or sell property in Dedham, you should consult the workers' compensation and real estate lawyers at Pulgini & Norton. Call us at 781-843-2200 or contact us via our online form to schedule a free consultation.