Quincy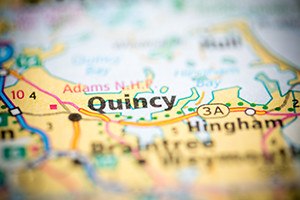 Quincy Lawyers Assisting You with Real Estate Matters and Workers' Compensation Claims
Quincy is a city in Norfolk County, Massachusetts with a population of over 90,000 residents, according to 2013 estimates from the U.S. Census. The city is located just south of Boston and is one of its closest suburbs. As the birthplace of two presidents, John Adams and John Quincy Adams, it is often called the "City of Presidents." One of its main attractions is the Adams National Historic Park, a 13-acre park that commemorates the family. The community also offers dozens of beaches along its 27-mile coastline, which attract residents and tourists alike. If you have a legal matter regarding real estate or workers' compensation in the area around Quincy, the attorneys at Pulgini & Norton can advise you on your rights.
Assert Your Right to Benefits Following a Work Injury
Employers in Quincy, and throughout the state, must carry workers' compensation. Under Massachusetts law, all employers have to provide this no-fault insurance coverage in case someone is injured or becomes sick as a result of his or her job. Workers' compensation benefits can extend to lost wages, medical coverage, retraining, payment for permanent loss of function, and survivor benefits after a fatal accident. Wage benefits are based on the extent of the disability and are subject to a state cap.
If you get hurt or fall ill at work, the condition must take you out of your job for at least five days in order for you to qualify for assistance. The situation should be reported to your employer. Its insurer will then decide whether or not to approve your claim for benefits. If it initially denies your claim, it may argue that your illness or injury is not work-related, that it is the result of a pre-existing condition, or that it is not as serious as you are asserting. You next would have to initiate the appeals process with the Department of Industrial Accidents (DIA). Pursuing a claim can involve multiple stages, including a conciliation, conference, and hearing at the DIA. You would have to provide evidence of your disability and need for medical care. Our attorneys can help you compile and present materials to support your right to benefits throughout the dispute resolution process.
Seek Advice on Property Transactions
Real estate deals are primarily based on contracts and state or municipal laws. If you are buying or selling property, the purchase and sale agreement will need to be carefully negotiated to protect your interests and to eliminate any concerns that could impede the closing. For example, a mortgage contingency gives a buyer a certain amount of time in which to obtain financing for the purchase. The buyer will want to negotiate a mortgage contingency that gives him or her enough time to secure a commitment from a lender. The seller, however, will want to limit this time in case the buyer is unable to secure financing, and the seller needs to put the property back on the market.
Potential buyers will often need to secure a home mortgage to purchase real estate, and owners often refinance their existing mortgages to take advantage of lower interest rates. Financing property can have a long-term impact on the owner's ability to keep and convey it in the future, as well as the lender's lien on the property. For example, someone who is the sole person on the deed may need to add a co-borrower, such as a spouse, if he or she wants to refinance it.
If a property owner is unable to make his or her mortgage payments, a short sale may help him or her avoid foreclosure. Unlike most purchase and sale transactions, this process requires prior approval by the mortgage lender. It may need to approve a short sale before the seller finds a buyer, or it may only agree to a short sale if it approves the seller's offer. We can assist you throughout this process if you choose to pursue it.
Discuss Your Legal Options with a Quincy Attorney
The property transactions and work injury lawyers at Pulgini & Norton have handled a range of diverse matters in Quincy and nearby communities. We advise clients in home purchases and sales, appraisals, zoning matters, and other residential real estate issues. Our lawyers also have extensive experience representing claimants in workers' compensation cases, including appeals and settlements. Call us today at 781-843-2200, or you can complete our online form to schedule a consultation.