Condominium Master Deeds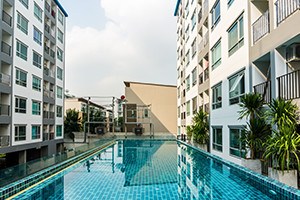 Boston Attorneys Advising Home Owners and Developers
Condominiums in Massachusetts are a form of legal ownership created by statute. They include both separately owned units and jointly owned common areas. In this arrangement, the unit owner has separate rights of real estate ownership of those things that are inside the unit. However, he or she shares ownership of areas outside the boundary, such as hallways, game rooms, courtyards, elevators, or parking lots. If you wish to create a condominium in Boston or the surrounding area by filing a master deed, the real estate lawyers at Pulgini & Norton may be able to help.
Creating a Condominium Master Deed
Condominiums in Massachusetts are a special form of property ownership that is created by following the mandates of Massachusetts Condominium Act, General Laws Chapter 183A. A property owner seeking to establish a condominium has to record a master deed with the registry of deeds. The master deed will set forth what is considered part of the units and what is considered a "common area." Additionally, the master deed will include a master floor plan and list unit owners' rights and obligations.
Usually, the units are the interior spaces, including finished ceilings, surface plaster, and the flooring. Common areas may include what is behind the wall, the roofs, the exteriors, common HVAC or plumbing, and yards. In small condominiums, there may be a limited common area that is technically common area space but is used exclusively by a unit owner, such as a private deck or a parking spot. The party that drafts the master deed can identify whether the condominium association or individual unit owners will repair the common area. Often, master deeds also impose restrictions on how units are used.
In some cases, certain unit owners will have different percentages of common area ownership. Owning more of the common areas means that an owner is entitled to greater participation in the business of the condominium association, as well as greater responsibility to pay for maintenance costs.
In addition to the master deed that establishes the condominium, an individual unit deed must also be submitted. This instrument permits a unit owner to transfer ownership to a new unit owner. The individual deed will include a description of the land, the address, information about the master deed, and a description of how the unit should be used. It may define use restriction and any undivided interests in common areas that accompany unit ownership.
Additionally, a condominium declaration of trust and bylaws must be filed. The purpose of the declaration is not only to form the condominium association, but also to outline rules and procedures to be followed by the association. It is likely to include limits on how much can be spent on shared expenses, including utility bills or the insurance premium in case of a slip and fall.
Discuss Your Real Estate Matter with a Boston Lawyer
Whether you want to establish a condominium or convert a property to a condominium in Boston, you may need the advice of a real estate attorney. Pulgini & Norton can represent you through the process and provide guidance on any problems that may be encountered. We represent clients in Somerville, Medford, and Newton, among other towns across the state. Call us at 781-843-2200 or contact us via our online form for a consultation.