NAR Code of Ethics
Real Estate Lawyers for Residents of Boston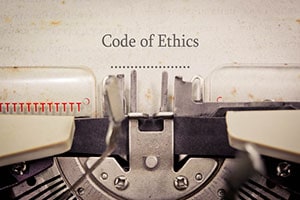 The National Association of Realtors (NAR) establishes ethical standards for real estate practitioners. The Code of Ethics was adopted in 1913, and it was a precursor to the license laws established by states. The purpose of the Code is to instill respect for realtors' exclusive relationships with clients and mandate cooperation to further the best interests of clients. If you suspect that you have been treated unethically by a realtor, our Boston real estate attorneys can advise you on the NAR Code of Ethics.
The NAR Code of Ethics
The NAR Code of Ethics includes 17 Articles, 71 Standards of Practice, and 131 case interpretations. However, it is not rigid and is reviewed on a yearly basis to make sure that it is relevant to actual realtors. It requires realtors to arbitrate their disputes. Peer panels enforce the Code at the local level.
Under Article I, a realtor is supposed to pledge themselves for the protection and promotion of a client's interests, whether the client is a buyer, seller, landlord, tenant, or another type of client. All parties must be treated in an honest way by the realtor. Duties imposed by the NAR Code may apply whether the realtor acts as an agent or in another legally recognized capacity as a non-agent. However, if a duty is imposed only on an agent, it is not imposed on a realtor who is acting as a non-agent. For example, if a realtor is trying to secure a listing, they are not supposed to deliberately mislead the owner about the market value of a home. Similarly, a realtor cannot claim that there are any savings or benefits to be had if a buyer seeks representation, if the claim is misleading or untrue.
Additionally, a realtor is supposed to have loyalty to a client. This means that the realtor can only represent both the seller and the buyer (or both the landlord and the tenant) if they have fully disclosed this to both parties and gotten their informed consent.
Realtors are also supposed to submit offers and counter offers as quickly as they can and do so objectively. This matters, for example, when there are multiple buyers bidding on a home. A realtor who sits on a bid for too long may be acting in violation of the Code of Ethics, since this delay could disadvantage a prospective buyer or result in the buyer losing a suitable home.
When a realtor is serving as a listing broker, they are supposed to keep submitting offers and counter offers until closing or a lease is executed, unless a seller or landlord waived this duty in writing. Realtors need not keep marketing a home after a seller has accepted an offer unless they have agreed with a client to act otherwise. A realtor should recommend that a seller get the advice of an attorney before accepting a subsequent offer, except when the acceptance depends on the termination of a lease or a pre-existing purchase contract.
Realtors owe a duty of confidentiality. Sometimes clients tell realtors private information about why they are selling a house or why they are in a hurry to buy a house. Under the NAR Code of Ethics, a realtor owes a duty to preserve confidential information given by a client in the course of an agency or non-agency relationship that is recognized by law. Not only are they not supposed to reveal this information, but also they are not allowed to use it to the disadvantage of clients or use it to their advantage or the advantage of another client or person. Confidential information can be used for the realtor's or a third party's advantage when the client consents after a disclosure is made, when it is required by court order, when it is necessary to defend against an accusation that the realtor or their associate acted wrongfully, or when the client plans to commit a crime and disclosing the information is necessary to stop the crime.
In addition to cooperating with other brokers as long as cooperation is in a client's best interest, realtors are not allowed to provide professional services related to a property or its value if they have an interest in the property, except when they specifically reveal this information to all of the parties that might be affected. They should not accept payment from more than one person or entity in a transaction without letting all of the parties know and securing their informed consent.
Discuss a Real Estate Matter with a Boston Attorney
There are many more rules that realtors must follow under the NAR Code of Ethics. Our firm understands these rules and may be able to advise you on whether there has been an ethical violation in your case, as well as other aspects of a real estate transaction. The Boston lawyers at Pulgini & Norton also handle real estate transactions in Quincy, Weymouth, and Braintree, as well as other Massachusetts cities. For a consultation with a property transaction attorney, contact us online or call us at 781-843-2200.