Origination Fee
Boston Attorneys for Real Estate Transactions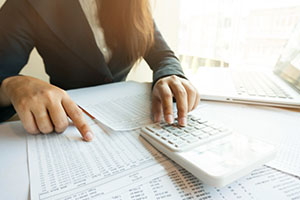 Lenders charge an "origination fee" as compensation for providing a loan. Generally, these are between 0.5% and 1% of the mortgage loan, and they are quoted as a percentage of the total loan. As with other commissions, when a lender takes a 1% origination fee, it makes just $2,000 on a $200,000 loan. When obtaining a mortgage, you need to pay attention to all of the closing costs, including the origination fee and the interest rate that the lender will charge. At Pulgini & Norton, our Boston real estate lawyers can provide sound advice to buyers and sellers who are concerned about the costs of obtaining a home loan or financing.
Origination Fees
When you submit financial information to an institutional lender to be processed for the purpose of buying a residence, you will go through the process of loan origination, which is the completion of the process of obtaining a home loan. During the processing, you will need to provide specific financial information, including your income, assets, employment, and credit, to the traditional lender in order to start the underwriting process. You will also need to authorize the broker, bank, or lender to get your credit report and release information about you.
The underwriter will use all of this information to make a decision about your application. The decision may approve, suspend, or decline the loan. Origination fees are the primary way that lenders now get paid for setting up loans once a decision has been made to approve your loan.
Just 20 years ago, lenders could charge a very high origination fee and yield spread premium, even though the interest rate was also higher than usual. There were more predatory subprime lenders charging origination fees that were up to 5% of the loan amount. However, after 2008, there have been more laws in place to prevent predatory lending, and public pressure has also worked to curtail predatory lending practices, such as exorbitant origination fees.
Sometimes a lower origination fee may be negotiated with large loan amounts. Lenders may be willing to make a concession when the loan is large, and the origination fee, even when negotiated down, will be larger than usual. Although a $100,000 loan may require the same amount of lender work as a $600,000 loan, the origination fee on the $100,000 loan may be a greater percentage of the loan amount.
Now, origination fees tend to be 1% or less. However, it is important to pay attention to each closing cost and make sure that you are getting a fair deal. You may be able to negotiate a reduced fee as a borrower, but usually you must concede something else to a traditional lender. Often, the concession involves a higher interest rate, and this may not be a wise decision by a borrower, although it may be appealing.
This is a sound decision only in cases in which you plan to sell the house fairly soon, or you want to refinance in a couple of years. The higher origination fee is a one-time cost, whereas an interest rate may affect your payments for decades. You will need to look at your interest savings over the full life of the loan and see whether the savings are greater than the origination fee to know whether you are getting a good deal.
Seek Guidance from a Boston Attorney Regarding a Home Financing Issue
Many people do not spend much time calculating different mortgage products and looking at whether the origination fees charged are excessive. However, when a mortgage is something that you may have for many years, it is worth the effort to analyze which product provides the greatest value for the life of the loan. At Pulgini & Norton, our experienced Boston attorneys can advise you about origination fees, as well as other costs associated with a mortgage. Obtaining sound advice about your mortgage is a vital part of buying a home. Our firm also handles real estate transactions in Waltham, Newton, and Cambridge, among other Massachusetts cities. For a consultation with a mortgage lawyer, contact us online or call us at 781-843-2200.