FHA Loans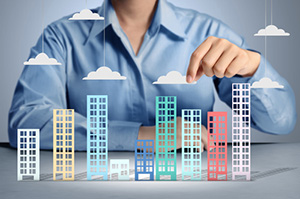 Real Estate Lawyers Guiding Boston Residents through the Financing Process
For many first-time homebuyers, a Federal Housing Administration (FHA) loan is a good choice to finance the purchase of a home. FHA loans are attractive because they have a minimum down payment of 3.5%, and typically they have low interest rates as well. For a conventional loan, by contrast, the minimum down payment is usually between five and 20%. FHA loans also have more relaxed lending standards, and loans are provided even to homebuyers who have lower credit scores. The FHA is not actually a lender but rather an insurer, and when you get an FHA loan, you are acquiring it through an FHA-approved lender. If you are interested in considering an FHA loan for the purchase of a home in Boston or the neighboring cities, the real estate attorneys at Pulgini & Norton may be able to advise you.
Issues to Consider When Pursuing an FHA Loan
The Federal Housing Administration (FHA), a government agency within the federal Department of Housing and Urban Development, insures loans so that a lender may offer a good deal. For many lower income families and individuals, an FHA loan can be the right way to finance the purchase of a home. These loans typically have low closing costs, a low down payment, and relaxed credit standards.
In some limited circumstances, you can acquire a loan with a minimum down payment of 3%. Since the interest rates for an FHA loan are lower, the monthly payment may be higher than it would be for a loan with a higher interest rate. You should be aware that when you acquire an FHA loan, you pay for mortgage insurance to protect the lender from loss in case you default on the loan. You will need to pay an upfront insurance premium of 1.75% of the loan amount, and this must be factored in when determining whether an FHA loan or a MassHousing mortgage is more appropriate for you under the circumstances. Sometimes, a MassHousing mortgage may wind up being less expensive in the long run.
Your credit scores as well as your location within Massachusetts determine the type of mortgage and how much of a down payment you must make with an FHA loan. For example, if you have a credit score between 500 and 579, you will need to make a down payment of at least 10%. People with a credit score under 500 are usually not eligible for an FHA loan. FHA loans can also be provided to buy a mobile home or factory-built housing. For the elderly, an FHA reverse mortgage, which allows a borrower to convert some equity into cash, may be appropriate.
The FHA also provides a loan called a 203(k) that allows borrowers to get cash in order to repair their home. This loan permits a borrower to finance up to $25,000 in repairs that do not involve the structure of the home, such as painting.
Discuss a Property Transaction with an Attorney in the Boston Area
First-time homebuyers need to look at all factors when determining which loan is right for them. The Boston lawyers at Pulgini & Norton can help you explore your home financing options and offer advice about acquiring an FHA loan. We also represent residents of Malden, Lowell, Brookline, and other cities in Massachusetts. Call us at 781-843-2200 or contact us via our online form for a free appointment.