Jumbo Mortgages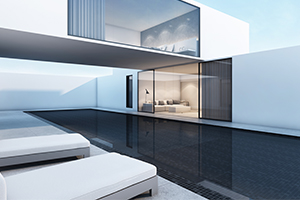 Real Estate Lawyers Serving the Boston Area
Most Americans need to take out a mortgage to buy a home. Conforming loans meet specific guidelines put forward by Fannie Mae and Freddie Mac, including guidelines about the size of the loan. Currently, a conforming loan's maximum size is $417,000. However, some home loans are much larger than the normal loans that are within regulatory limits. Certain nonconforming loans are called jumbo loans. Many lenders offer jumbo loans for homes, but it is important to consult an experienced Boston real estate attorney to determine whether they may be a good option for you.
Jumbo Mortgages
In higher-cost areas, the limit for a jumbo loan is $625,000. Additionally, there are "super jumbo loans," which are loans for amounts greater than $650,000. Since jumbo loans do not meet the standards of conforming loans, they are harder to sell on the secondary market. Lenders are not as certain that they will be able to resell this type of mortgage, and thus they will offset the financial risk by charging a borrower a higher interest rate.
Jumbo loans carry greater risks and are often used to purchase luxury homes. Generally, luxury homes are harder to sell than more moderately priced or affordable options, since there are fewer buyers for them. Moreover, their value may fluctuate significantly. Jumbo mortgages are home loans that exceed the maximum loan amount that Freddie Mac and Fannie Mae buy. They are issued by big banks that do not sell their loans. Instead, the bank makes money by charging higher interest rates on mortgages than what is paid on a customer deposit.
The requirements for these loans were relaxed for a certain period, but they are now strict again, and the conforming limit for the loan is different depending on where you are trying to buy. In the past, jumbo loans were provided to homebuyers even if they were putting very little down and did not verify their income. Now, to qualify for a jumbo loan, borrowers need to get an adjustable rate loan, document their income, make a down payment of at least 20%, and have a monthly mortgage payment that is not more than 38% of their pre-tax income. Lenders usually offer the same or similar loan programs for jumbo loans that they do for other types of loans. In some cases, they also provide for zero down jumbo mortgages.
Lenders often have loan amount limits, which may drop as the loan-to-value (LTV) ratio approaches 100%. Roughly, this means that the lower your LTV ratio is, the more you may borrow. This is because the lender perceives that there is less of a chance of your defaulting on a jumbo loan.
Contact a Knowledgeable Real Estate Attorney in Boston or Beyond
Buying a luxury home comes with significant risk for many Americans. In addition to the possibility of the home's value drastically changing while you own it, there is also the stress of worrying about whether you will be able to pay off the loan in the appropriate time frame. Obtaining a jumbo mortgage may be a good solution for some homeowners. If you are concerned about securing a jumbo mortgage, Pulgini & Norton's Boston real estate lawyers may be able to help. We represent buyers, sellers, associations, and lenders in Quincy, Cambridge, and Braintree, among other Massachusetts communities. Call us at 781-843-2200 or complete our online form for a free consultation with a mortgage attorney.