Escrow Holdback Agreements
Boston Lawyers Helping Home Purchasers and Sellers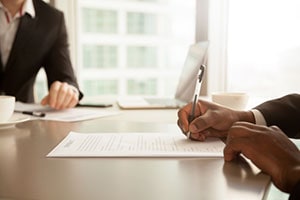 Sometimes buyers discover that major improvements or repairs are needed on homes that they hope to buy. In some cases, the seller agrees to make repairs to get the home sold. However, a seller may not be able to afford the repairs before closing, and a buyer may not be interested in paying for work on a home that they have not bought yet. An escrow holdback agreement may be helpful to allow for the funding of a home purchase or home improvement loan. At Pulgini & Norton, our Boston real estate attorneys can help with all aspects of buying or selling a home, including drafting collateral agreements.
Escrow Holdback Agreements
Some buyers are dismayed to discover that a seller has not completed work on the home that is being purchased. The move-in date is impending, yet the house is not ready. Similarly, there are instances in which a contractor has not finished a new home construction as the move-in date approaches. Closing can still happen by using an escrow holdback, which involves money set aside to assure the buyer that the seller or builder will finish specified work at a later date. Sufficient money must be held back in escrow to motivate the seller or contractor to finish the work and obtain the funds.
An escrow holdback agreement allows a transaction to close on schedule. The agreement will state that some part of the sale proceeds held in escrow, often by a closing attorney, will be held back pending the completion of repairs or improvements. These holdbacks are common, and they can be used to address any deficiency in the property, such as unfinished construction work, a title issue, or a new septic system.
For example, if a seller does not have enough money to buy a new septic system, it can agree to fund the repairs by using a certain amount of the sales proceeds. The escrow holder will keep the amount specified to install the new septic system. The seller will not need to pay for the work before getting money from the sale and will not necessarily oversee the completion of the work. Sometimes it is necessary for an appraiser to examine the work necessary to ask for a holdback.
An escrow holdback agreement must be approved by your lender and signed at closing. It will show on a HUD-1 Settlement Statement. Certain lenders do not allow an escrow holdback, and in such cases, it will be necessary to push the closing date back. Some lenders impose additional requirements rather than refuse to allow the holdback. For example, a lender may require the home to undergo an inspection before the funds are released.
When the escrow holdback is for a construction loan, the lender may keep a part of the loan through an escrow account and release funds to pay contractors only after it has determined that the work has been done well, and after all subcontractors have been paid. A lender typically establishes the amount of holdback based on bids made by contractors. There is usually some extra amount that is maintained in case there is an unexpected or emergency expense.
Sometimes, the Department of Housing and Urban Development decides to sell a foreclosed home that was insured under the FHA's program and that requires repairs. People buying a home may be able to finance their purchase of HUD real estate-owned properties by using loans that have escrow holdbacks. The buyer may be able to live in the house while the work is being finished. In that case, the holdback will keep 110% of the estimated repair expenses.
Explore Your Real Estate Options with a Boston Lawyer
Often, homes require significant repairs or improvements before buyers can take possession of them. If you have questions about escrow holdback agreements in connection with a home, you should consult an experienced Boston attorney. Our firm understands all aspects of real estate transactions, including inspections, negotiations, and closing. Pulgini & Norton also handles property transactions in Quincy, Newton, and Waltham, as well as other cities. For a consultation with a property transaction lawyer, contact us online or call us at 781-843-2200.