Due on Sale Provisions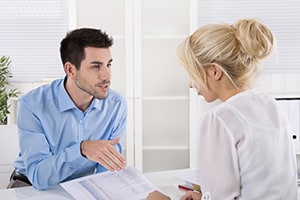 Real Estate Attorneys Helping Property Owners in Boston
A due on sale provision is language in a mortgage contract that requires the mortgage to be fully paid off if the borrower conveys or sells their interest in the home securing the mortgage. If there is a due on sale clause on a mortgage, it may not be assumed. Lenders put the clause in mortgage contracts to guard against the risk that the mortgage might be transferred to a new homeowner while the mortgage is still under the existing market interest rates. Our Boston real estate lawyers can advise you on how this type of provision works.
Due on Sale Provisions
A due on sale provision or acceleration clause allows a mortgage lender to immediately demand payment on the remaining balance owed on the mortgage when the home that the mortgage secures is transferred or sold. A bank may or may not choose to exercise the contractual right in such a provision. In contrast, an assumable loan is secured by a mortgage that does not have this provision.
Lenders are concerned about a mortgage being transferred to new property owners when the mortgage falls below current market interest rates because this extends the life of a mortgage and may affect the risk. If you have a due on sale clause in your mortgage contract, you may not be able to transfer your mortgage to a buyer of your home. Instead, you will need to use what you got in the sale to pay off the mortgage. Meanwhile, the buyer needs to apply for and get a new mortgage.
In certain specified situations under the 1982 federal Garn-St. Germain Act, banks and other mortgage lenders may not enforce a due on sale clause with regard to a residence. This federal law includes a list of exempt types of transfers, and this law preempts state laws. Exempt transfers include transfers to your spouse or child, transfers that occur upon divorce or death, and certain other transfers.
For example, if you get divorced, and you jointly own your home, but the home becomes owned by only you, due to a settlement agreement or divorce decree, the due on sale clause may not be enforced. Similarly, if you pass away, and the property is transferred to your children, or you transfer your home to a living trust with you as the beneficiary, the lender will not be able to enforce the due on sale clause.
Since the law passed, lenders have assumed that these clauses are always valid. However, this is not strictly true. Some exemptions may be more complicated, such as an exemption for the creation of a lien or another encumbrance that is subordinate to the mortgage and does not relate to transferring rights for the purposes of occupancy.
With this exemption, you should be able to get a home equity line of credit through a junior lien without worrying that you have triggered the due on sale clause. However, there are situations in which people try to interpret this exemption a little more broadly. Among other things, our experienced attorneys can help you analyze the impact of a due on sale provision on more nuanced situations and transfers.
Seek Assistance from a Boston Lawyer Regarding a Mortgage
For many people, taking out a mortgage is a huge commitment. It is important to understand what you can and cannot do with regard to a particular mortgage, since it may affect your ability to transfer or even sell your home in the future. At Pulgini & Norton, our Boston attorneys can advise sellers and prospective homeowners on due on sale provisions and other aspects of taking out a mortgage. Our firm handles property transactions in Somerville, Quincy, and Waltham, among other Massachusetts cities. For a consultation with a home financing lawyer, contact us online or call us at 781-843-2200.