Massachusetts Mandatory Licensee Consumer Relationship Disclosure
Boston Lawyers for Real Estate Buyers and Sellers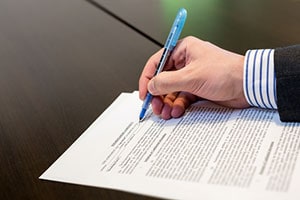 Real estate brokers and agents must follow numerous laws and regulations, as well as a code of ethics. If you talk about a particular home with a real estate broker or agent, the broker or agent is supposed to provide you with a Massachusetts mandatory licensee-consumer relationship disclosure. The disclosure form will describe different types of agency relationships. However, real estate brokers and agents cannot provide you with legal advice. If you need knowledgeable legal representation when buying or selling a home, the Boston real estate attorneys at Pulgini & Norton may be able to assist you.
Massachusetts Mandatory Licensee-Consumer Relationship Disclosure
The Massachusetts mandatory licensee-consumer relationship disclosure is supposed to be provided to you as a consumer by a real estate agent whose name is listed on the disclosure. The form is not a contract, but it needs to be presented at the first personal meeting that you have with the agent to talk about a particular property. It contains descriptions of different kinds of relationships that may be available.
A real estate licensee can represent you as a seller's agent or a buyer's agent, or serve as a facilitator. The disclosure advises you that you need to have an agreement stating that the real estate agent works for you only if you have an agreement for the relationship. Two licensees from the same real estate firm can be dual agents representing a buyer and a seller for a property transaction, as long as they have their consent. Agents in the same real estate firm may also represent the buyer and the seller as designated agents.
All real estate agents are supposed to show properties with accuracy and honesty. They are also supposed to let their clients know of any material defects in a piece of real estate. However, consumers are supposed to guard their own interests with respect to such matters as legal issues, tax issues, or insurance issues. Real estate agents do not owe a duty to inspect the homes that they show or to perform evaluations of any particular aspect of the property.
The form will advise you that a seller's agent is also called a listing agent and is retained by a seller to sell property. When an agent represents a seller, they owe them duties of undivided loyalty, disclosure, reasonable care, confidentiality, obedience to legal instructions, and accountability. The agent is required to prioritize the seller's interest and negotiate for the best price and terms possible.
The form will also advise that a buyer's agent is an agent for the buyer and owes them duties of disclosure, obedience to legal instructions, accountability, confidentiality, reasonable care, and undivided loyalty. The agent is supposed to prioritize the buyer's interests, putting them first. They will need to negotiate to get the best available terms and price for the buyer.
The form will also advise as to a non-agent facilitator relationship. A facilitator helps the seller and the buyer agree on the terms of the sale but does not represent either of them. A facilitator and the broker with whom they are affiliated are required to show each home with honesty and accuracy. They need to disclose material defects of which they know. They must also account for funds. Unlike a buyer's agent or seller's agent, the facilitator does not have an obligation to keep the information that they are told confidential. This role will only apply in a particular transaction that involves a particular buyer and seller. Sometimes the parties can agree to change the relationship to one that is an exclusive agency relationship.
Sometimes a real estate agent will designate another real estate agent to represent either a buyer or a seller based on their agreement. The designated real estate agent is the agent for either the seller or the buyer and owes that person duties of reasonable care, confidentiality, accountability, obedience to legal instructions, and undivided loyalty.
A dual agent is somebody who represents both the buyer and the seller with their express and informed consent. The agent is supposed to get written consent before executing a buyer's offer to buy a specific home. They are supposed to be neutral and will not have the same duties that an exclusive agent has. They are obliged to follow duties of accounting for funds and confidentiality with regard to material information.
Consult a Dedicated Real Estate Attorney in Boston
If you have questions about the Massachusetts mandatory licensee-consumer relationship disclosure in connection with representation by an agent, you should consult an experienced Boston lawyer. Our firm understands all aspects of real estate transactions, including the negotiation of purchase and sale agreements. Pulgini & Norton also handles real estate transactions in New Bedford, Hyde Park, and Lowell, among other Massachusetts cities. For a consultation with a property transaction attorney, contact us online or call us at 781-843-2200.