Condominium Verification Provisions
Real Estate Attorneys Assisting Boston Home Buyers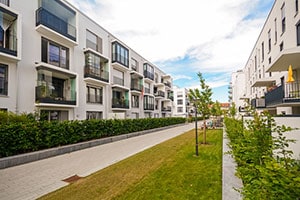 Many people find it to be more comfortable to buy a condominium than a freestanding single-family home. However, there are some issues that must be addressed before purchasing a condominium. Before buying a condominium, it is critical to evaluate all of the condominium documents, including the master deed, the declaration of trust, bylaws, the budget, and meeting minutes. You need to make sure that the association is stable and that you can live with the rules that are in place to keep it that way. At Pulgini & Norton, our experienced Boston real estate lawyers can evaluate condominium verification provisions in purchase and sale contracts.
Condominium Verification Provisions
When buying a condominium, you will also want to find out how much is in the capital reserve account for the condominium and how much it is funded each year. A capital reserve fund is crucial because all buildings require repairs over time. The capital reserve fund should take this into account. When a capital reserve account is not properly funded, it is more likely that special assessments will become necessary.
Special assessments are assessed against unit owners so that capital improvements may be made. They are one-time fees, but in a poorly run condominium, they may need to be assessed more often than you would like. Whether there has been a special assessment in the recent past should be reflected in the meeting minutes for the condominium.
Most people should also find out whether a professional management company is used to manage and govern the condo. When an association manages itself, there may be more disorganization, which may result in poor financial management, unpaid condo fees, increased special assessments, or other problems, such as lawsuits and disputes about who must make repairs and capital improvements. We usually look at whether a condominium is involved in a pending legal action to determine whether it is a sound purchase decision for a client, but in some cases, there are no documents to show that litigation is pending.
The purchase and sale agreement may include a condominium verification provision that will put a buyer's mind at ease. This provision requires a seller to attest to aspects of the condominium's finances to make sure that you are not going to lose money on your investment. When an issue comes up before closing, you may use this provision to terminate the purchase and recover your deposits. It may be helpful to tailor this provision to your specific needs and the circumstances of your purchase.
A condominium verification provision states that the seller is representing to the best of their knowledge that the condominium documents provided to a buyer are accurate and complete copies of the documents that have been recorded at the Registry, and there are no other documents that adversely affect the unit being purchased that have not been presented to the buyer.
The verification will typically state the current condominium fees and declare that there has been no notice of special assessments nor any awareness on the seller's part that there are pending improvements or repairs that are likely to result in an assessment or higher monthly costs. The verification can also state that if there are any such assessments that are owed as of closing, the seller will need to pay those before the closing, or the buyer can terminate the agreement.
Some additional nuances may be built into these provisions to adjust for your specific circumstances. Usually, it is helpful to also include provisions about the insurance policy for the unit and litigation related to the seller and the association. The seller is supposed to notify a buyer if any of the statements made in the condominium verification provision turn out to be untrue, based on facts that arise later but before the closing.
Consult a Knowledgeable Boston Lawyer
Condominiums are great homes for many different types of people and families. However, it is important to make sure that it is managed well, or you could wind up paying much more than you expected over the course of your ownership of a unit. If you have questions about condominium verification provisions in connection with a Boston home, you should consult an experienced attorney. Our firm understands all aspects of real estate transactions, including the negotiation of purchase and sale agreements. Pulgini & Norton also handles property transactions in New Bedford, Braintree, and Brookline, among other cities. For a consultation with a condominium attorney, contact us online or at 781-843-2200.