Renovation/Rehabilitation Loans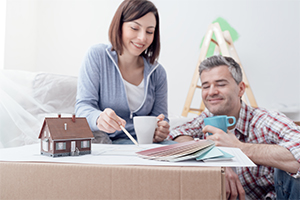 Boston Lawyers for Residential Real Estate Transactions
For many people buying fixer-uppers or homes that are not exactly right, it may be stressful and frustrating to figure out how to proceed with renovations. In the past, banks would not give you a mortgage for a house that was not in good repair until after repairs were completed, but the repairs could not be undertaken until the house was bought. A renovation loan, also known as a rehabilitation loan, allows you to refinance either the purchase or the renovation of your home through one mortgage. If you obtain an FHA 203(k) rehabilitation loan, you do not need to apply for more than one loan. At Pulgini & Norton, our Boston real estate attorneys can help you with any aspect of a property transaction, including the procurement of a renovation loan.
Renovation Loans
The FHA 203(k) rehabilitation loan allows a buyer to purchase a property that is not in good repair and includes the cost of the renovation and repairs in the loan. This makes it easier to buy a fixer-upper property or renovate a home that you already have. You need to meet the requirements presented by the Department of Housing and Urban Development in order to get this type of loan. You will need to find a qualified lender and meet that lender's requirements for debt-to-income ratios, minimum credit score, and proof of income.
As with other loans, once your loan is approved, a closing date will be set. Only after closing will a repair escrow account be set up. You will need to start your loans within 30 days of closing and complete them during a six-month period. There are two different options for a rehabilitation loan.
If you get a Limited K loan, you will pay the contractor 50% of the total amount upon which you have agreed within 15 days of the closing date, and you will pay the balance after they complete the work that needs to be done. This type of loan is designed for homes that only need a cosmetic upgrade and may be renovated or updated for under $35,000. For example, if you want to buy a home that needs minor work, such as pool repairs, nonstructural kitchen remodeling, a ramp for someone who has disabilities, replacement of a roof or gutter, basement waterproofing, or interior or exterior painting, a Limited K loan may be appropriate.
A Consultant K loan is for homes that need more significant repairs that cost more than $35,000. There may be loan limits based on the type of property and the location. This loan requires more supervision. If you get a Consultant K Loan, you work with a HUD 203(k) consultant who inspects the repairs that you are having done and will permit interim draw payments, assuming that the work passes a final inspection and meets FHA minimum standards. Once a final disbursement is made, the remaining funds are applied to the loan's principal balance.
Seek Guidance from a Boston Attorney
In the past, it was challenging for buyers who were not wealthy to buy a fixer-upper. Renovation or rehabilitation loans give buyers an opportunity to buy a home that needs repairs without worrying about taking out multiple loans. At Pulgini & Norton, our Boston lawyers can advise you on mortgages and other aspects of real estate matters. We handle transactions in Brookline, New Bedford, and Cambridge, among other Massachusetts cities. For a consultation with a mortgage attorney, contact us online or call us at 781-843-2200.