Equal Credit Opportunity Act (ECOA)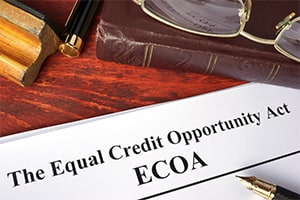 Boston Lawyers for Real Estate Matters Involving Financing
Many people need credit to finance their purchase of a home. The Equal Credit Opportunity Act (ECOA) is designed to stop credit discrimination on the basis of age, marital status, receipt of public assistance, sex, national origin, religion, color, or race. Creditors are not allowed to use this type of information when deciding whether to provide you with credit or setting terms. The ECOA is enforced by the Federal Trade Commission. If you are concerned about the questions that you may be asked by creditors when applying for a loan, consult the Boston real estate attorneys at Pulgini & Norton.
The Equal Credit Opportunity Act (ECOA)
Mortgage lenders use income, credit history, debts, and expenses to determine whether a borrower is creditworthy. Creditors are allowed to ask you questions about various aspects of your identity in some situations, but they are not allowed to use the answers that you give when trying to decide the terms of your credit or whether to give credit. The ECOA protects you in the context of obtaining a mortgage as well as getting credit in other situations.
A mortgage lender is never supposed to turn you away from applying for a particular mortgage, impose a higher interest rate, or reject your application because you receive public assistance, or because of your age, marital status, sex, national origin, religion, color, or race. Sometimes you will be asked questions related to these categories, and often you may provide answers on a voluntary basis. However, your immigration status may be considered when a creditor is trying to make a decision about the length of your stay in the United States to make sure that you can repay the mortgage.
There are also other circumstances in which you must answer questions related to an aspect of identity listed above, such as when your spouse is jointly applying for a mortgage or you are relying on alimony or child support from a former spouse to get credit. The mortgage lender may also consider your age if you are under 18, your age is relevant to other factors that determine creditworthiness, such as your income, or you are at least 62, and as a senior, you will be favored. On the other hand, your income may not be discounted due to your gender or race, such as if the creditor believes that a young woman is likely to stop working to have kids.
People who obtain public assistance may be reassured by the ECOA's prohibition on lenders refusing to consider public assistance income or income from pensions or annuities or even reliable alimony as they consider other income.
Under the ECOA, you are entitled to have credit without a cosigner if you meet the creditor's standards. You may keep your accounts after changing your name, retiring, divorcing, getting married, or getting to a specific age, except if there is evidence that you are not able or willing to pay.
Consult a Property Transaction Attorney in the Boston Area
Under the Equal Credit Opportunity Act, you have the right to know specifically why your application for a mortgage was rejected or why you were given less favorable terms than those that you sought in situations in which you reject those terms. At Pulgini & Norton, our Boston attorneys can advise prospective homeowners on the ECOA or another appraisal technique. Our firm also handles real estate transactions in Cambridge, Quincy, and Newton, as well as other Massachusetts cities. For a consultation with a home financing lawyer, contact us online or call us at 781-843-2200.