Burn Injuries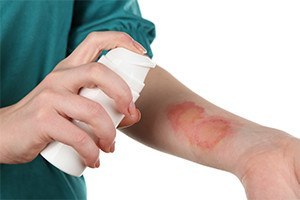 Capable Workers' Compensation Lawyers Serving Boston Residents
A workplace accident can cause serious injuries, including burns. Unlike some types of harm, they often lead to multiple surgeries, extensive rehabilitation, and permanent disfigurement. At Pulgini & Norton, our workers' compensation lawyers advise people who have suffered serious job-related injuries. If you were burned as a result of an accident at work, a Boston burn injury attorney can help you pursue benefits.
Burns and Workplace Accidents
Burns are injuries to the skin that are caused by heat, fire, electricity, or chemicals. They can range from superficial damage to the top layer of the skin to deep, penetrating injury to the muscle or bone. Burns are categorized in severity as first, second, or third degree. A first-degree burn usually involves damage to the outer layer of the skin, and it is typically characterized by redness. With a second-degree burn, there is damage to both the first and second layers of skin. A third-degree burn is the most serious, with damage to all layers of the skin that may extend to deeper tissues.
Burns can occur in a workplace accident. According to the Massachusetts 2012 Occupational Injuries and Illnesses Annual Report, approximately 670 injuries in the private sector were attributed to heat and chemical burns. They can be caused by:
Fires and explosions;
Chemicals and hazardous materials;
Electric shock; and
Scalds or contact with hot objects.
Burns have a physical and psychological impact on a person. They often require several surgeries to repair, including excision and skin grafting. In some cases, they can cause permanent disfigurement and scarring. For instance, a burn injury may be so severe that it requires amputation of a limb.
Pursuing a Claim for Benefits in Massachusetts
If you suffered a burn injury while doing your job, you may be eligible for workers' compensation benefits. Employers in Massachusetts must carry this type of no-fault insurance. When a worker is hurt or becomes ill, the coverage provides the worker with certain benefits, such as:
Reasonable medical care to treat the injury;
Weekly wage benefits based on the extent of the disability;
Vocational rehabilitation to help the worker return to his or her job or get another job; and
A one-time payment for permanent loss of function or disfigurement.
To qualify for workers' compensation, you must miss at least five non-consecutive days of work because of the injury. Your financial compensation can include weekly wage benefits and a payment for disfigurement or permanent scarring. The amount and duration of your wage benefits are based on your average earnings for the year prior to your burn injury, and whether the injury left you partially disabled, totally but temporarily disabled, or permanently and totally disabled. You can also receive a one-time payment for a burn injury that causes physical disfigurement, such as scarring to your face or hands, an amputation, or the loss of a function such as eyesight.
A
n insurer may deny your claim for certain workers' compensation benefits. For example, it may argue that your burn injury is not as severe as you claim and try to minimize your weekly wage benefits. It may also argue that your injury is only scar-based, in which case you would not be entitled to permanent loss of function and disfigurement benefits. The insurer could also object to covering the costs of a vocational rehabilitation program. You would need to appeal any denial to the Department of Industrial Accidents (DIA). You would have to provide the DIA with medical evidence to support your claim, as well as a description of any scars and loss of function you sustained as a result of a burn.
Seek Guidance from a Boston Burn Injury Attorney
The experienced workplace accident attorneys at Pulgini & Norton provide injured employees with dedicated representation. With more than 40 years of combined experience, we understand the intricate laws and processes involved in workers' compensation cases. Our Boston lawyers can advise you on what types of benefits you may be entitled to receive and how to pursue them, and we can represent you before the DIA. We serve clients throughout Andover, Cambridge, and Hyde Park, among other areas. For a consultation, give us a call today at 781-843-2000. You can also fill out our online form.