Poor Ergonomics
Boston Attorneys Guiding Workers' Compensation Claimants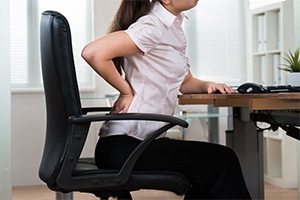 Ergonomics is basically the science of making a workspace fit a worker's body. When tasks, tools, and equipment are redesigned with physiology, kinesiology, industrial hygiene, and other disciplines in mind, injuries and stress on the musculoskeletal system of a worker may be reduced. Many accidents that give rise to workers' compensation claims could have been prevented by using better ergonomics. Employees injured as a result of poor ergonomics should consult the Boston workers' compensation lawyers at Pulgini & Norton about their claims.
Benefits for Injuries Resulting From Poor Ergonomics
Today's workplace encourages increased specialization that may require you to perform only one movement over a long period for many days or even years. The musculoskeletal system may be unduly stressed when a worker is made to perform repetitive tasks, lift extremely heavy objects, use excessive force, or be exposed to excessive vibrations. Sometimes sitting for very long periods or working in awkward positions may also result in injuries.
Musculoskeletal disorders that affect soft tissues like muscles, cartilage, tendons, ligaments, and joints may be results of undue stress. These are painful disorders that may be disabling and develop over a long period of time. Poor design in tools or workplaces may contribute to injuries like carpal tunnel syndrome, back injuries, or tendinitis.
Your employer should recognize the ergonomic risk factors in a workplace and provide better equipment. Simply reducing physical stress by providing better-designed workstations may prevent serious musculoskeletal disorders.
If you are injured on the job due to poor ergonomics and cannot work for five partial or full calendar days, you should notify your employer in writing. Your employer is required to report the injury to its workers' compensation insurer in a First Report of Injury and also to report the injury to the Department of Industrial Accidents (DIA). The employer should provide the insurer with all of the documents that it requests so that it can properly evaluate your workers' compensation claim. The insurer has 14 days from the receipt of the form to mail you a check or send a certified letter denying compensation.
You should not assume that liability has been accepted by the insurer simply because you receive a check. The insurer may pay without prejudice for a certain period while evaluating the materials related to your claim. In some cases, insurers deny claims arising out of poor ergonomics because they believe that you have a pre-existing condition. You should not assume that a denial for this reason is legitimate. As long as poor ergonomics at work are a major cause of your disability, you are entitled to workers' compensation benefits. Thus, for example, if you have a disc herniation, if your workplace chair and repetitive motions severely aggravated the herniation, you may be entitled to benefits.
Discuss Your Workers' Compensation Claim with a Boston Lawyer
Poor ergonomics in a workplace may cause severe and debilitating pain. Many workers suffer serious injuries due to repetitive motion and posture problems that exist over a long period of time. It is important to retain an attorney to help you present your case persuasively to an insurer and the Department of Industrial Accidents. At Pulgini & Norton, our Boston workers' compensation attorneys may be able to help you with your claim. We also provide legal representation to claimants in Waltham, Somerville, and New Bedford, as well as other Massachusetts cities. Call us at 781-843-2200 or complete our online form to set up an appointment with a job injury attorney.