Cost of Living Adjustments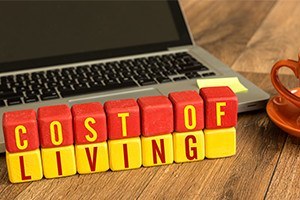 Workers' Compensation Lawyers Advising Claimants in Boston
Some employees are disabled for the rest of their lives due to a job-related injury or illness. Permanent disability workers' compensation benefits can be received throughout a victim's lifetime. However, how does the system account for inflation over the years? In Massachusetts, the law provides for cost of living adjustment (COLA) payments for certain recipients. At Pulgini & Norton, our workers' compensation attorneys can discuss with Boston residents whether they may be entitled to a COLA adjustment.
Pursuing a Cost of Living Adjustment
Under General Laws c. 152, § 34B, anybody who receives workers' compensation benefits under G. L. c. 152, § 31 or § 34A, is also eligible for a benefit in an amount that is intended to protect the employee from inflation. In other words, COLA payments can be made to anyone receiving permanent and total incapacity benefits or death benefits.
Permanent and total incapacity benefits are awarded when the disability arising from a work-related injury is both permanent and total. They are a weekly sum calculated as two-thirds of an employee's average weekly wage before the injury, but they are not to exceed the maximum weekly compensation rate. Death benefits are received by the spouse or dependent of a worker who died from injuries that occurred at work. The weekly benefit is equal to two-thirds of the average weekly wage, with a maximum set by the Commonwealth. If a surviving spouse does not remarry, he or she can receive death benefits for the rest of his or her life.
To be eligible for COLA, your injury must have been more than two years ago, or your injury must have occurred before December 23, 1991 and you must be collecting partial disability benefits. You cannot collect COLA benefits if you are receiving temporary total disability. The benefits are to be paid automatically if you are eligible. The law requires that COLA supplemental benefits be paid concurrently with your base benefits. In order to recover these benefits, your date of injury must be at least 24 months before October 1 of the COLA year.
However, COLA cannot be paid to someone also receiving Social Security Disability Insurance (SSDI) if COLA would require an adjustment to those benefits. Although you can collect a combination of workers' compensation and SSDI benefits, the Social Security Administration is permitted to offset your monthly SSDI benefits when you also receive workers' compensation benefits. In Massachusetts, you can request a voluntary waiver of SSDI in order to qualify for the Massachusetts COLA. In the month during which the voluntary waiver takes effect, the worker's compensation is increased by all of the adjustments that applied during the interim.
The Department of Industrial Accidents (DIA) administers the workers' compensation law, including the amount of the COLA. Every October, the DIA's director determines the percentage change from the prior year in the average weekly wage, and that change constitutes the cost of living adjustment. By law, the yearly COLA cannot be more than the lesser of the percentage change in the consumer price index or five percent.
Enlist a Boston Attorney after a Workplace Accident
If you have become permanently disabled or lost your spouse in a job-related accident, you may be entitled to a cost of living adjustment. While the adjustment should happen automatically, it is important to retain an attorney who understands the workers' compensation law and COLA. At Pulgini & Norton, our Boston lawyers represent victims of workplace accidents in many cities across Massachusetts, such as Lowell, Braintree, and Medford. Call us at 781-843-2200 or contact us via our online form for a free consultation.