Delivery Workers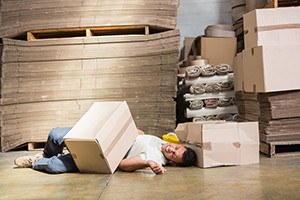 Boston Attorneys Serving Workplace Accident Victims
A large percentage of workplace accidents are attributable to motor vehicle collisions. Often, these collisions involve delivery workers. Delivery workers usually receive instructions to go to a particular location to deliver items at or around a specific time. They usually need to possess a thorough understanding of the roads. Many of them drive light trucks from distribution centers to delivery locations based on a set schedule. Some go back and forth from the distribution center to the delivery location, while others only go to the distribution center once. In some cases, delivery workers also have sales responsibilities and drive cars or far larger commercial trucks. If you are a delivery worker who suffers injuries on the job, the experienced Boston workers' compensation lawyers at Pulgini & Norton may be able to help you navigate the process of seeking benefits.
Workers' Compensation for Injuries Suffered by Delivery Workers
The most common types of injuries suffered by delivery workers are probably sustained in vehicle accidents, but there may also be injuries suffered from carrying heavy packages. For example, back injuries while loading or unloading a delivery vehicle are also common.
Delivery workers in Massachusetts are entitled to workers' compensation benefits if they are injured on the job, regardless of fault. In other words, they may be an at-fault or negligent driver and still be able to recover benefits for their injuries from their employer's insurer. However, if a vehicle accident is the result of another driver's negligence, they may also be able to recover damages through a third-party lawsuit against that driver. Generally, the damages available in a lawsuit in which the fault of the defendant is proven are likely to be greater than the benefits available through the workers' compensation system.
Benefits that may be available through the system include medical expenses as well as temporary and total disability, partial disability, and permanent and total disability benefits. The benefits are calculated by looking at your average weekly wage and the extent of your disability. The system is set up to try to make sure that employees who are disabled or injured on the job will receive benefits, but unfortunately insurers often reject valid claims or fail to provide the full range of benefits to which an employee is entitled.
When an insurer contests a claim, an injured delivery worker may be forced to seek alternative sources of payment, such as third-party lawsuits or public assistance like Mass Health health insurance. Sometimes receiving these payments results in a lien against a workers' compensation claim. A health insurance lien is only satisfied and discharged if the workers' compensation carrier reimburses the insurer. If a claim may be denied, lien holders may be willing to negotiate the lien.
Enlist an Experienced Workers' Compensation Lawyer in Boston
When your workers' compensation claim is being decided, a skilled and knowledgeable lawyer will represent your employer's insurer. It is important for you to be represented as well. Our experienced Boston workers' compensation attorneys represent delivery workers and others who have been injured on the job. We can assist people in Waltham, Newton, Andover, and other Massachusetts cities as well. Call us at 781-843-2200 or contact us via our online form for a free consultation with a workplace accident attorney.