Inadequate Safety Training
Boston Attorneys Representing Workers' Compensation Claimants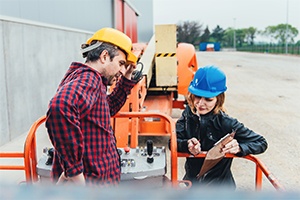 Both federal and Massachusetts laws exist to protect you from unsafe working conditions. Among other things, the Occupational Safety and Health Act of 1970 (OSHA) provides regulations related to safety training, including the use of safety equipment, harnesses, scaffolding, noise guards, and other measures designed to keep workers from getting injured. Additionally, the Department of Labor Standards provides regulations for employers in connection with safety hazards. At Pulgini & Norton, our Boston workers' compensation lawyers may be able to help you file a claim for benefits if you were injured as a result of inadequate safety training in your workplace.
Pursuing Benefits for Injuries Caused by Inadequate Safety Training
In Massachusetts, you may report any violations of safety and health laws to the Attorney General's office, and employers may be held criminally liable for violating the standards set forth by the United States Department of Labor. Employees have the right to refuse to work when an employer violates safety laws, such that an imminent threat to health and safety is presented. Employees have the right to be trained on health and safety standards, including standards related to toxic chemicals. Employees have the right to the results of an OSHA inspection. Massachusetts also has a right to know law related to toxic substances used in the workplace. Among other things, your employer is required to train you so that you can safely handle any hazardous or toxic materials on the job.
In many cases, however, an employer has paid some attention to safety, but the attention has been inadequate. For example, a construction company might require employees to wear safety equipment but fail to provide the right size of suits or harnesses for employees who work at great heights. A factory might provide gloves to handle chemicals, but the gloves might be old, resulting in chemical burns. As a result of inadequate safety training, workers are exposed to a greater risk of injuries and more severe injuries than they would be exposed to in a workplace with proper safety training.
If you are injured as a result of inadequate safety training, you may be able to obtain workers' compensation benefits. Unlike personal injury damages, which you may only obtain by proving another party's fault, workers' compensation is a system of benefits that are supposed to be provided regardless of anyone's fault for the injuries. Therefore, you may obtain benefits whether your injury is a result of inadequate safety training or your employer claims that it was your own fault.
However, if there has been an OSHA inspection or another official investigation that shows that there was inadequate safety training, this may be helpful in showing a causal relationship between your injuries and your workplace. In some cases, insurers improperly deny claims due to a supposedly pre-existing condition or claim that the injury must have been sustained outside work. When there is an official report in place that connects the dots between your injury and your workplace conditions or training, it may be easier to recover benefits.
Explore Your Options with a Workers' Compensation Lawyer in Boston
Inadequate safety training is a common reason for job-related injuries in Massachusetts. At Pulgini & Norton, our Boston workers' compensation attorneys may be able to help you with your claim. We also provide legal representation to claimants in Braintree, Waltham, and Andover, among other cities. Call us at 781-843-2200 or complete our online form for an appointment with a job injury attorney.