Sciatica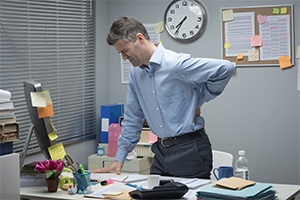 Workers' Compensation Attorneys Knowledgeably Representing Boston Claimants
Sciatica is a symptom of a problem with the largest nerve in the body, the sciatic nerve. It usually results from back problems, including possibly a lumbar herniated disc, spinal stenosis, spondylolisthesis, and degenerative disc disease. It consists of leg pain and sometimes tingling, numbness, or weakness that starts in the lower back, moves through the buttock, and goes down the sciatic nerve of the leg. Sciatica may be constant and debilitating, or it may be intermittent. Although the symptoms may be debilitating, permanent sciatic nerve damage is rare, as is spinal cord involvement. At Pulgini & Norton, our Boston workers' compensation lawyers can help you pursue benefits if you experience work-related sciatica.
Seeking Benefits for Injuries Related to Sciatica
Sciatica typically affects only one side of the body. However, in some cases, it may be incapacitating. Doctors diagnosing sciatic pain are likely to take a complete medical history, perform a physical exam, and conduct imaging studies. Often, sciatica is caused by a herniated disc in the spine. It may resemble other conditions. It is important to see a doctor right away if you believe that an accident at work or a work-related task caused your sciatic pain.
In some cases, sciatica disappears with time and rest. However, treatment may also include exercise, physical therapy, or surgery. Doctors look at factors such as health, medical history, medication tolerance, the procedures available, and patient opinions and preferences.
If you develop sciatica in the workplace, and your claim is accepted, your doctor will submit bills to the workers' compensation insurer. The Department of Industrial Accidents (DIA) uses a utilization review and quality assessment program to monitor the appropriateness of medical services for claimants. There is a Health Care Services Board composed of 13 members who develop treatment guidelines for treating injured and ill workers. They are supposed to cover most tests and treatments for the conditions to which they apply. Since sciatica is a symptom rather than a diagnosis, the appropriate therapies for it may vary depending on the diagnosis. The guidelines are reviewed annually, but in general, the application of the treatment guidelines is a requirement for getting workers' compensation benefits.
If you have received a notice from your employer's insurer about having a different doctor examine you, you will need to comply in order to receive benefits. You will be compensated for lost work time if the insurer has asked for a medical evaluation, and the appointment conflicts with your usual scheduled work hours.
In some cases, people with sciatica go back to work after receiving benefits, but they may be still receiving treatment for the underlying condition. If you need to take time off to go to physical therapy or other medical treatment, your employer is not required to pay you for the time that you take off for this treatment. However, the insurer is required to reimburse you for reasonable travel expenses. You will be compensated for the time off work only if the insurer has requested a medical evaluation that conflicts with your usual scheduled working hours.
Contact a Boston Lawyer for Your Workers' Compensation Case
If you suffer sciatica on the job in Massachusetts, you should retain an experienced Boston workers' compensation attorney to fight for the full scope of benefits to which you may be entitled. At Pulgini & Norton, we also represent claimants in Waltham, Hyde Park, and Medford, among other communities. Call Pulgini & Norton at 781-843-2200 or use our online form to schedule a consultation with a workplace accident lawyer.