Trench and Building Collapses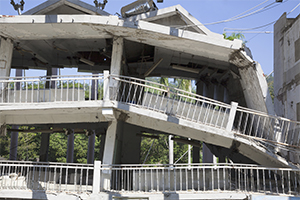 Boston Attorneys Helping Injured Construction Workers
Trench and building collapses may cause catastrophic injuries or death to construction workers. Many trenching contractors are not in compliance with the standards for this type of work, according to the Occupational Safety and Health Administration. Protective systems involving sloping, shielding, or shoring are supposed to be used when excavating five feet or more deep. However, some workers do not use cave-in protection because the employer finds it inconvenient. If you are injured or a loved one was killed in a trench or building collapse, the Boston workers' compensation lawyers at Pulgini & Norton may be able to help you obtain benefits.
Trench and Building Collapses May Cause Serious Injuries
Workers competent to do so are supposed to figure out a protective system against trench or building collapses. It is unacceptable for your employer not to use cave-in protection in digging trenches due to convenience. When load-bearing elements in a building fail, it collapses onto itself, and exterior walls are sucked into the falling building. Sometimes this type of accident is caused by construction activity, and sometimes it is caused by a fire or other natural forces.
After a collapse, rescue workers and emergency responders will need to come into the trench or collapsed building. They also face risks of injury in the collapse and will need to assess structural instabilities and shore up safe paths. Often, specialized equipment is necessary.
Anyone injured on the job in a trench or building collapse, whether a construction worker or an emergency responder, may be eligible for workers' compensation. Most employers in Massachusetts are required to obtain workers' compensation insurance to provide medical and wage replacement benefits to employees who are hurt on the job. You are covered even if you were paid under the table, you are not a United States citizen, or you are undocumented. However, you are not covered if you are self-employed and have not taken out your own workers' compensation insurance.
You will not need to prove fault. However, insurers often do deny valid claims. If you receive a denial or do not get all of the benefits to which you believe that you are entitled, you may wish to file an appeal.
Survivors of workers or emergency responders who die in a trench or building collapse may be able to receive death benefits. You may obtain burial expenses of up to $4,000 and weekly benefits that are equivalent to two-thirds of your deceased family member's average weekly wage, up to a set maximum. If you are a surviving spouse, you may receive the benefits as long as you do not remarry and stay dependent. If you are an eligible dependent child, and your surviving parent remarries, you may still receive $60 each week, as long as the total amount paid to you and your deceased parent's other dependent children does not exceed what your surviving parent received.
Retain a Boston Lawyer to Pursue a Claim for Benefits
Trench or building collapses may result in crushing injuries, amputations, suffocation, and deaths. If you are hurt or a loved one was killed in a trench or building collapse on the job, you probably are entitled to workers' compensation benefits. The Boston attorneys at Pulgini & Norton may be able to advise and represent you in your claim. We help people in Cambridge, Braintree, and Waltham, among other Massachusetts communities. For a consultation with a workplace accident lawyer, contact us online or call 781-843-2200.