Sports Injuries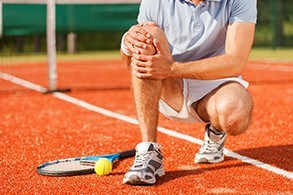 Legal Guidance for Boston Employees Seeking Workers' Compensation
Devastating injuries can happen to professional athletes or others who engage in sports activities as part of their jobs. They can range from spinal cord blows and back injuries to broken or fractured bones and brain damage. When an athlete is hurt on the job, a serious injury can cost him or her a career. Sometimes accidents also occur while a non-athlete is at a mandatory work event, playing a sport like basketball or baseball. If you are hurt at work or a job-related activity in Boston due to a sports injury, the workers' compensation attorneys at Pulgini & Norton may be able to help you assert your right to benefits.
Benefits Based on Sports Injuries
Employers of professional athletes are required to provide workers' compensation coverage to players who suffer sports injuries while working. Someone who is hurt can file a claim at the Department of Industrial Accidents (DIA). Since an injury can be career-ending for an athlete, a substantial amount of compensation may be available.
Benefits available to professional athletes who are hurt on the job may include medical treatment, wage loss benefits (including temporary total disability, partial disability, or permanent total disability), and compensation for disfigurement. In some cases, an athlete is unable to return to playing a sport or is released from his or her contract. When this happens, it may be possible to get vocational rehabilitation in order to get trained for a new job.
Sports injuries at work can also be compensable if your employer has required you to play sports as part of mandatory team-building or another required job-related event. Generally, if your participation was voluntary, you cannot recover under the Workers' Compensation Act, even if your company sponsors a sporting activity. For example, if your employer holds a Christmas party at an ice rink and you fall down and sprain your ankle, you probably would not be able to recover compensation.
However, the situation is likely to be different in certain other types of cases. A company might require employees to go to an all-day teambuilding conference, where participation in a soccer tournament is part of one of the exercises. A worker might get kicked in the head, fall, and suffer a concussion and back injury. Or an individual might go to a mandatory company retreat at a ski lodge and break an ankle. In those cases, an injured person might be able to argue that the accident was job-related and justified receiving workers' compensation.
Injuries incurred while traveling to work or a job-related event are not covered. Therefore, if someone is involved in an accident while traveling to a company retreat or mandatory sporting event, this is not likely to make that person eligible for benefits.
Discuss Your Work Injury Claim with a Boston Attorney
As with other workers' compensation matters, insurers may contest the severity of your harm or the extent to which you deserve benefits. If you are planning to file a claim in the Boston area, you may want to explore your options with a work injury attorney at Pulgini & Norton. Any recorded statements or independent medical examinations may later be used to deny you benefits, and it is important to prepare your case carefully. We represent injured individuals throughout Massachusetts, including in Hyde Park, Andover, and New Bedford. Call us at 781-843-2200 or contact us via our online form for a consultation.