Nerve Damage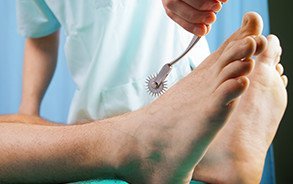 Legal Representation for Workers' Compensation Claimants in Boston
Nerves relay essential information from various parts of the body to the brain and control a wide range of necessary bodily processes. If one or more nerves are damaged, the resulting adverse symptoms can be very harmful both to daily living and your job. If you suffer nerve damage at work in Boston, the dedicated workers' compensation attorneys at Pulgini & Norton can help you seek the benefits to which you may be entitled. In general, your employer's insurer is not on your side, and you should consult your own attorney before agreeing to a recorded conversation or going to an independent medical examination.
Nerve Damage in Massachusetts Workplaces
Some of the most common workers' compensation disability claims involve nerve damage. This impairment can stop workers from performing at full capacity or may prevent them from working at the same job. Symptoms of nerve damage include pain, burning, tingling, sweating, nausea, numbness, weakness, paralysis, loss of vision or loss of balance, muscular degeneration, and bladder issues. Nerve damage can be the cause of sensitivity to touch as well. The causes of nerve damage in many cases are unknown, but it is common for it to be exacerbated by job tasks or to be discovered while working.
Some on-the-job causes of nerve damage include slip and falls, crushing injuries, car crashes, repetitive stress injuries, autoimmune disease, spinal cord injuries, and carpal tunnel. In some cases, toxic chemicals like arsenic or mercury in workplaces such as manufacturing plants or factories cause nerve damage.
Often a nerve disorder is caused by diabetes, which is considered a pre-existing condition, but it may be exacerbated by the workplace environment. If it is determined that you have a pre-existing condition, the insurer will try to show that it is the sole reason you are unable to do your job. However, an attorney can help you try to prove that you deserve some benefits to the extent that the injury was exacerbated by your job. Under the workers' compensation system, benefits may be awarded for the additional amount of harm caused by the aggravation of the condition due to the workplace environment.
Among the benefits you may be able to recover through workers' compensation are lost income, medical costs, physical therapy, surgery, treatment, loss of function, and lump sum payments. The size of an award depends on the degree to which you are disabled, the loss of bodily function, and your average weekly wage. In some cases, it may be appropriate to be retrained for another position at your employer's company. In other cases, you may not be able to work again, in which case you will qualify for permanent disability benefits. If you likely will be able to work again, you can qualify for either permanent or total temporary benefits, depending on the extent of your harm.
Consult a Boston Attorney after Suffering a Workplace Injury
Nerve damage can be frustrating and painful. If you have suffered nerve damage because of the tasks required by your job, you should contact a work injury lawyer who has assisted other employees in the Boston area. Rarely does a workers' compensation insurer want to pay the full amount to which you believe you are entitled, and an adjustor may require you to attend an independent medical examination or try to find a way to deny your claim. At Pulgini & Norton, we represent individuals in communities such as Hyde Park, Andover, and New Bedford. Call us at 781-843-2200 or contact us via our online form for a consultation.