Snow and Ice Accidents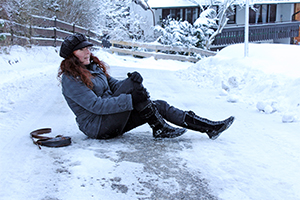 Boston Lawyers for Workers Injured on the Job
Extreme winter weather is common in New England, and snow and ice accidents may happen to anyone. Snow, ice, and other weather conditions are a common cause for slip and falls that may result in broken bones and other serious injuries. If you are an outdoor worker on the job when you are injured in a snow or ice accident, you may be eligible for workers' compensation benefits. At Pulgini & Norton, our Boston workers' compensation attorneys advise and represent people injured on the job to help them seek the benefits to which they may be entitled.
Pursuing Compensation for Snow or Ice Accidents
If you suffer a slip and fall at a remote work location or in certain other circumstances, you may be entitled to both workers' compensation benefits and personal injury damages from a non-employee property owner. Generally, workers' compensation is not available to employees who are hurt while traveling to or from work. However, there are several important exceptions. One exception is for workers whose regular duties involve traveling away from the premises of their employer. This would include outdoor workers, such as delivery service workers or landscapers.
Another exception is for injuries that do happen on the employer's premises but not inside. For example, if your employer owns the parking lot where you park, and you slip on black ice and fracture your ankle, you may be able to recover benefits.
Also, there is an exception if an accident happens while you are going home from an offsite event related to work and sponsored by the employer. For example, if you are required to attend the company holiday party, and you get into a car crash due to hail and suffer a concussion and a broken leg, you may be able to recover benefits.
Another exception is when you are in a vehicle provided by the employer for your travel. For example, if you are on a business trip and get into a car crash in a rental car provided by your employer because of heavy snow, you may be able to recover benefits.
Generally, the question is whether your being outside or traveling was a benefit to your employer and related to your job duties. If you were out of the office for purely personal reasons, workers' compensation would not apply. The test is whether you were involved in an authorized task that helped your employer, whether or not you were technically on the clock. If you do not have a fixed workplace, or you hurt yourself while traveling, and it is a big part of your job duties or a special assignment for the employer, it is likely that you will qualify for benefits.
Unlike a premises liability lawsuit that you may also be able to bring, workers' compensation benefits are supposed to be provided without consideration of fault. This means that you may recover these benefits even if you slipped and fell because you were not looking where you were going, for example.
Seek Representation from a Workplace Accident Attorney in Boston
Snow and ice accidents may result in broken bones, a concussion or another traumatic brain injury, lacerations, and frostbite. If you are hurt in a snow or ice accident on the job, you may be entitled to workers' compensation benefits. The Boston lawyers at Pulgini & Norton may be able to advise and represent you. We handle claims in Andover, Newton, and Waltham, among other Massachusetts communities. For a consultation with a workplace accident attorney, contact us online or call us at 781-843-2200.