Partial Disability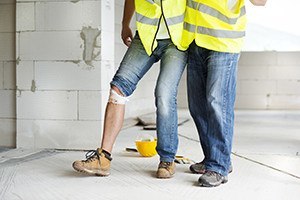 Boston Attorneys Skilled in Workers' Compensation Claims
If you were partially disabled as a result of a workplace injury or illness, you may have the right to claim benefits under workers' compensation. At Pulgini & Norton, we offer comprehensive services to individuals near Boston who have been hurt at their jobs. Our workers' compensation lawyers have significant experience representing and guiding injured employees through the claims process.
Partial Disability
When a person is hurt on the job and misses at least five days of work, he or she can potentially claim workers' compensation benefits. A Massachusetts employer must carry this type of coverage in case an employee suffers a work-related injury. If a worker is harmed, he or she can submit a claim for benefits. These include coverage for injury-related medical costs and a percentage of his or her lost income. The amount of benefits a claimant can receive will depend on whether the accident has left him or her partially, permanently and totally, or temporarily and totally disabled.
If you suffer an accident on the job but are still able to work, you may be eligible for partial disability benefits. A person may fit into this category if he or she can continue to work after the injury, but at a lower earning capacity. For example, you may need to change jobs or work fewer hours. An injury that has this effect would have reduced your earning capacity but would not have ended your ability to work. If you are partially disabled, you can receive certain benefits under workers' compensation.
Applying for Benefits
Partial disability benefits include injury-related medical care and wages. You can receive compensation to cover reasonable medical costs associated with the harm, which can include surgeries, rehabilitative care, and prescription medications.
You can also receive wage benefits. A partially disabled worker can get 60 percent of the difference between his or her weekly salary prior to the injury and the amount he or she can earn afterward. The maximum compensation, however, cannot exceed 75 percent of what the individual's benefits would be if he or she had suffered a temporary total disability.
The amount you are able to earn after an accident depends on a number of factors, including whether the job you held at the time is still available to you and how much work you can do given your limitations. Another consideration is how much you could earn at another suitable and available job. An employment opportunity is considered suitable if it bears a reasonable connection to your education, training, and experience, and if you are able to perform it given the severity and nature of your injury.
Wage benefits for partial disability last for up to 260 weeks, or five years. You may, however, be able to extend them under certain circumstances. A judge may lengthen your combined partial and total disability benefits for up to 364 weeks, or seven years. They may also be extended for up to 520 weeks, or 10 years, if you suffered a permanent and total loss of 75 percent of more of certain physical functions, such as eyesight, or if you develop a life-threatening condition or disabling disease.
Vocational Rehabilitation
The Office of Education and Vocational Rehabilitation may contact you to discuss and evaluate whether you may benefit from vocational rehabilitation. These techniques are intended to get you back to work at or near your previous earning capacity. The office may be able to offer retraining, counseling, and job placement assistance. If you are contacted about a meeting, it is vital that you attend. If you do not, you may risk losing your workers' compensation benefits.
Discuss Your Workplace Injury Claim with a Boston Lawyer
The workplace accident attorneys at Pulgini & Norton represent employees who have been hurt at their jobs in Boston and neighboring areas. We provide seasoned and dedicated representation in workers' compensation claims. We can go over your injury, review your medical records, and discuss what types of benefits you may be eligible to receive. We can also help you appeal a denial of your workers' compensation claim. Call us today at 781-843-2200, or complete our contact form to arrange a confidential consultation. We provide our services to individuals in Brookline, Malden, and Newton, in addition to other communities.