Chondromalacia
Boston Lawyers Experienced in Workers' Compensation Claims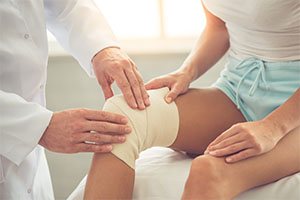 The kneecap is normally just over the knee joint, such that when the knee is bent, the back of the kneecap moves smoothly over the cartilage of the thigh bone. Tendons and ligaments connect the kneecap to the thigh muscle and shinbone. Chondromalacia patellae is also called "runner's knee." It occurs when the cartilage underneath the kneecap degrades and softens. Symptoms of this condition include pain and the sensation of grinding. If you suffer from job-related chondromalacia, you may have a basis to bring a claim with the assistance of the Boston workers' compensation attorneys at Pulgini & Norton.
Chondromalacia
Moving abnormally may cause a worker's kneecap to grind against the thighbone, which may result in the deterioration of the kneecap. Sometimes the abnormal or improper movement is a result of poor alignment because of a congenital condition, but sometimes it is a result of trauma to the kneecap, repeated stress on the joint, or weak hamstrings and quads.
Doctors treating this condition in a conservative way will recommend rest and decreasing activities that aggravate the problem, including any work tasks that may worsen it, such as those involving sitting with bent knees, climbing or descending stairs, and squatting. It may be important to use non-steroidal anti-inflammatory medications and cryotherapy as well as thermotherapy, or to add shoe orthotics or a brace. Some doctors may require physical therapy. When symptoms do not respond to the conservative treatment, it may be possible to undergo arthroscopic surgery to smooth out the damaged cartilage or remove it altogether.
If you suspect that this condition is a result of your job, you should notify your employer right away. Most employees in Massachusetts are eligible for workers' compensation benefits, including medical benefits. When you visit your doctor, you should let the doctor know that the condition is likely job-related. Your employer's insurer should provide you with a claim number that allows the doctor to bill the workers' compensation carrier directly.
If you are incapacitated by job-related chondromalacia, you may also be able to recover disability benefits. The amount of disability benefits depends on the severity of your disability. These benefits may be either temporary or permanent and either partial or total. A disabled worker with a total and permanent incapacity is entitled to two-thirds of the worker's average weekly wage. If the worker is totally incapacitated, but only temporarily, they may get 60% of their average weekly wage for up to 156 weeks.
You are supposed to get a check within 3-4 weeks of reporting the condition to your employer. You may start receiving compensation for lost wages for any days of incapacity after the first five days of incapacity, whether full or partial. However, you will not be compensated for the first five days of incapacity unless you suffer a disability for at least 21 calendar days. You should not assume that when you receive a check, the insurer has accepted liability, and that is the end of the matter. The first 180 days after the initial injury are a pay-without-prejudice period, during which time the insurer may pay you for up to 180 days without making a final determination about liability. About half of workers' compensation claims go undisputed, but the other half are challenged. The workers' compensation system may be difficult to navigate, and it is important to retain legal counsel if you suspect that your claim will be disputed or if it is disputed. While you may technically represent yourself before the Department of Industrial Accidents (DIA), which administers the system, your rights may not be protected, and you might lose out on important benefits.
Retain a Skillful Boston Attorney for Your Workplace Accident Claim
Chondromalacia may be debilitating, and if it is a result of your job, you should be able to recover benefits through the workers' compensation system. At Pulgini & Norton, our Boston attorneys can advise and represent you in workers' compensation claims arising out of many different health and medical conditions. We also represent claimants in Andover, Somerville, and Waltham, among other Massachusetts cities. For a consultation with a job injury lawyer, contact us online or at 781-843-2200.