Forklift and Ladder Accidents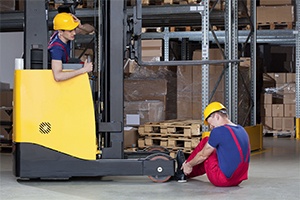 Workers' Compensation Lawyers Helping Boston Claimants
The construction industry has the highest rate of workplace injuries among all of the industries doing business in Massachusetts. Falls from forklifts or ladders may result in serious injuries that require you to take time off work and undergo medical treatment. In some cases, they may even result in death. If you have been hurt in a forklift or ladder accident in your workplace, or a loved one was killed, the Boston workers' compensation attorneys at Pulgini & Norton may be able to help you recover the benefits to which you may be entitled.
Benefits for Victims of Forklift and Ladder Accidents
If you have been hurt in a Massachusetts construction accident, you may be eligible for disability benefits. These may be partial or total, and temporary or permanent. You may also be eligible for medical benefits, including medical mileage. If you suffer disfigurement or loss of function, you may also be eligible for a one-time payment. The amount of disability payments will depend partly on the extent of the injury and partly on your average weekly wage.
You are entitled to benefits for a work-related injury even if you were partially to blame for an accident. For example, if you failed to put on a safety harness correctly and fell from a great height, suffering serious injuries, you can potentially still recover benefits through the workers' compensation system. Although the workers' compensation system was designed to be easier to navigate than the civil judicial system, you may have trouble collecting benefits even if your coworkers and your boss saw you fall. A common reason for a partial or full denial of a claim of this type is a pre-existing injury.
For example, if you fell off a ladder, the insurer may review your medical records, notice that you previously suffered a back injury unrelated to work, and issue a denial. You should not assume that a denial is appropriate. Even if you were already suffering from back pain, you might sustain a serious injury by falling from a great height off a forklift or ladder. As long as a workplace accident aggravated your injury or is a major cause of your current injuries, you are entitled to workers' compensation benefits.
In some cases, the insurer starts paying benefits right away. However, this does not mean that liability has been established. The first 180 days after the injury are a pay without prejudice period, during which benefits may be paid even though the insurer is still deciding whether to accept or deny a claim.
In construction accident cases, workers injured on the job cannot sue their own employers for negligence or other misconduct. Workers' compensation comprises the exclusive remedy against the employer. However, a worker may also have a third-party claim against a general contractor or another subcontractor that is not his or her employer. If safety gear, the forklift, or the ladder was defective, the worker may have a product liability claim against the manufacturer.
Consult a Workers' Compensation Attorney in the Boston Area
If you suffer a job-related forklift or ladder accident, you may need workers' compensation benefits. Representation by an experienced construction accident attorney can make a critical difference. At Pulgini & Norton, we provide tenacious representation to injured workers in many Massachusetts communities, including Malden, Somerville, and Cambridge. Contact Pulgini & Norton at 781-843-2200 or through our online form for a consultation with a Boston workers' compensation lawyer.