Hamstring Injuries
Boston Lawyers for Workers' Compensation Claims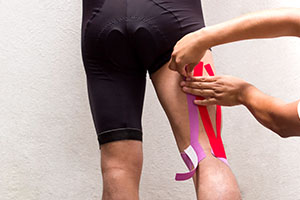 The hamstring muscles are a group of three muscles running across the backs of thighs. An injury may happen if someone strains, pulls, or tears these muscles. People who play certain sports, such as basketball or soccer, which involve sprinting and sudden stops, are more likely to suffer hamstring injuries. However, hamstring injuries may also result from work or a combination of factors. Hamstring injuries typically result in sudden sharp pains in the back of the thigh, as well as swelling and tenderness. At Pulgini & Norton, our Boston workers' compensation attorneys may be able to help you obtain benefits for job-related hamstring injuries.
Hamstring Injuries
Hamstring injuries may be minor and may be treated at home, but workers who are not able to put any weight on an injured leg or cannot walk without significant pain should see a doctor. They should notify the employer if they believe that it is job-related, and they should also let the doctor know that it is job-related. Generally, if a worker has had a prior hamstring injury, they are likely to have another one, particularly if they try to resume activities at the prior level of intensity before strength is rebuilt. Sometimes hamstring injuries are more likely when the quadriceps is more developed than the hamstring muscles.
Hamstring injuries may result from a job, but in some cases, claimants may have a difficult time persuading insurers of this. Many legitimate claims get denied. About 50% of claims are denied, and of these, many are valid claims by claimants entitled to payment.
You should notify your employer right away if you believe that your hamstring injuries are job-related, and you should also seek medical care. In some cases, imaging may identify the injury. Failing to obtain proper care for a hamstring injury may result in more serious injuries down the line to other muscles, ligaments, tendons, cartilage, or even the kneecap.
One reason that insurers may give for denying a workers' compensation claim is the existence of a pre-existing injury. The insurer and the employer may try to establish that you had a pre-existing hamstring injury prior to getting into a workplace accident. However, claiming that there is a pre-existing injury is not an adequate basis to deny a claim. In many cases, work activities may worsen or exacerbate a prior injury, and if so, the worker is entitled to get benefits even if there is a pre-existing condition.
You will need to show that the hamstring injury was significantly aggravated by your job and that work is a "major" cause of the harm that you have suffered. This may mean that there is a whole new hamstring injury, which may be established by showing prior imaging and existing imaging, or that the prior injury combined with a new hamstring injury, thereby prolonging your incapacity.
Several pieces of evidence may go toward recovering workers' compensation in spite of a pre-existing condition. For example, if you needed emergency care or days off from work, if you required medical treatment when you did not before, if you have physical restrictions or limited work hours as documented and recommended by doctors, or if you are unable to do work that you could do before, these new circumstances may show that your work is a major cause of your current hamstring injury.
If you receive a denial of your workers' compensation claim, you should retain an attorney. Although it is technically possible to submit your claim to the Department of Industrial Accidents (DIA) yourself, the process may be quite complicated, and the consequences of administrative proceedings may be far-reaching. An experienced attorney can make sure that you present your hamstring injury in a persuasive way to a conciliator or administrative law judge and take your claim before a civil judge as necessary and appropriate.
Discuss Your Work Injury Claim with a Boston Attorney
If your hamstring injuries are work-related, you have a right to obtain workers' compensation benefits for them. At Pulgini & Norton, our Boston attorneys can advise you on workers' compensation claims arising out of many medical conditions. We also handle claims in Medford, Brookline, and Cambridge, as well as other Massachusetts cities. For a consultation with a job injury lawyer, contact us online or at 781-843-2200.