Pre-Existing Conditions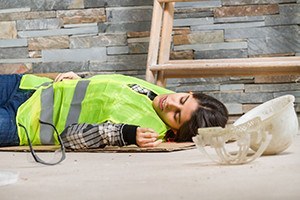 Capable Workers' Compensation Lawyers in Boston
Work can sometimes aggravate a pre-existing medical problem. If your job environment or a workplace accident worsened an ongoing condition, you can seek financial assistance. At Pulgini & Norton, our dedicated workers' compensation attorneys represent individuals near Boston with medical issues that were aggravated at work. We have over four decades of experience assisting injured and ill employees in Massachusetts.
Pre-Existing Conditions
Pre-existing conditions are injuries or illnesses that precede harm suffered in the workplace. A job-related incident can aggravate them, in which case an individual might be entitled to workers' compensation benefits. Examples of pre-existing conditions that could be exacerbated by work include:
• Neck and back injuries
• Injuries that are repetitive in nature, such as carpal tunnel and stress fractures
• Loss of hearing or vision
• Anxiety or depression
• Injuries to the extremities
It is important to remember that you can only receive workers' compensation if your job-related injury aggravated your pre-existing condition. You cannot claim benefits for the original medical issue itself, or for any events that occur outside the workplace that could have aggravated your situation.
While a pre-existing condition will not prevent you from filing a workers' compensation claim, it can create hurdles during the process. An insurer may use it as a basis for denying or reducing your benefits.
When you seek workers' compensation, you will need to undergo various medical tests to determine the extent of your disability. Your employer's insurer has the right to have you examined by a medical provider of its choosing. The exams will be used to determine if you have a permanent total disability, temporary total disability, or partial disability. They will also assess if you have a pre-existing condition, if the work-related injury exacerbated the problem, or if it is a separate issue altogether.
If there is a connection between your workplace accident and your pre-existing medical condition, there is a possibility that your employer's insurer may deny your claim. If it does, you may want to appeal the decision with the Department of Industrial Accidents (DIA). During the process, your employer's insurer may claim that you have what is known as a "combination injury" in order to reduce your benefits or deny your claim entirely. Under Massachusetts workers' compensation law, if a compensable injury combines with a pre-existing medical issue, the resultant condition provides grounds for benefits only to the extent that it caused the disability or need for treatment. The cause must be major, but it does not need to be a predominant factor of the resultant condition.
If the insurer raises the combination injury defense, the burden shifts to the claimant to show that the work accident was a major cause of his or her disability and need for medical care. In other words, the worker needs to demonstrate that harm suffered in the workplace was a significant factor in creating the current situation. You would have to produce medical exams and other records to support your arguments. Our attorneys can prepare the evidence and provide the robust representation you need to prove your claim.
Boston Attorneys Offering Dedicated Representation in Work Injury Claims
The work injury lawyers at Pulgini & Norton can help you assert your right to benefits if you suffered a job-related accident in the Boston area and have a pre-existing condition. We have handled numerous workers' compensation cases and can represent you if your employer's insurer has denied your claim. Our lawyers can assess and prepare the evidence you need to support you in any proceeding before the DIA. We serve clients in Somerville, Malden, and Weymouth, among other Massachusetts communities. For a consultation, give us a call at 781-843-2200, or complete our online form today.