Highway Maintenance Workers
Boston Lawyers Representing Injured Employees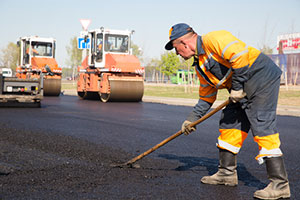 Highway maintenance workers make sure that roads and highways across Massachusetts remain in safe and working order. They need to complete many different tasks, including the removal of snow and ice, regular maintenance, the creation of dividing lines, and repairs of potholes and other road defects. They spend their days working on sites that need repairs by going to problem areas, evaluating what needs to be done, and finding appropriate solutions. If you are injured as a highway maintenance worker, you may be entitled to benefits. Our Boston workers' compensation lawyers are here to assist you.
Highway Maintenance Workers
Highway maintenance is physically demanding and sometimes necessitates working in extreme weather conditions. For example, it may involve salting the road to prepare for a snowstorm. It may entail removing trees or debris that is blocking traffic. In many cases, it involves getting necessary certifications to operate heavy machines, such as cherry pickers, forklifts, mowers, blowers, plows, and more. Highway maintenance workers are expected to learn how to care for machines, including cleaning filters, dismounting plows, and changing oil.
Unfortunately, with all of these physically demanding tasks, highway maintenance workers are at risk of serious injuries. They may not sue their employers for putting them into risky situations, although they may have grounds to recover damages from a third party under certain circumstances, such as if they were working with a defective piece of machinery or were run over by a negligent driver. However, in many cases, their sole recourse is a workers' compensation claim.
Workers' compensation allows highway maintenance workers to recover benefits without proving fault. Benefits that may be available include medical benefits, loss of function benefits, scarring or disfigurement benefits, disability benefits, and vocational rehabilitation services. You may not recover any intangible losses, such as the pain and suffering that you may go through or your spouse's loss of consortium. Instead, you are limited to tangible, more easily documented benefits.
You should be aware that the first 180 days after an accident as a highway maintenance worker are considered a pay-without-prejudice period, meaning that the insurer may pay you benefits during this time while investigating your claim. The investigation may include a review of your medical records, discussions with your employer, and even a look at your social media presence. You should not assume that the payment of benefits means that the insurer has accepted liability, and you will no longer need to worry about receiving them.
You are entitled to receive reasonable and adequate medical treatment if you are injured while working on the highway. You may also recover reimbursement for medical mileage and prescription drugs that you need from the insurer. Although you may choose the provider whom you see on a regular basis, your employer is allowed to tell you with which doctor to schedule your first scheduled visit. The insurer is also entitled to send you to get an independent medical examination with a doctor of its choosing. In spite of the name of this examination, this doctor is not independent, and often insurers choose doctors who tend to be unsympathetic to claimants.
You may seek vocational rehabilitation services within two years of the approval of a lump sum settlement in the Massachusetts workers' compensation system. Participation in a vocational rehabilitation program will not guarantee that you find another job, but it may improve your odds. If you are found eligible for vocational rehabilitation services but decide that you will not participate, your compensation may be reduced by 15%.
Discuss Your Needs with a Workers' Compensation Lawyer in Boston
If you suffer injuries as a highway maintenance worker, you have a right to obtain workers' compensation benefits. Sometimes valid claims are denied, so it is important to consult an experienced Boston attorney in situations in which you are concerned about an insurer's denial of some or all of your benefits. At Pulgini & Norton, our experienced work injury attorneys can advise you on workers' compensation claims arising out of many different professions. We handle claims in Lowell, Weymouth, and Somerville, among other Massachusetts cities. Contact us online or call us at 781-843-2200 for a free appointment.