Food Manufacturing Injuries
Workers' Compensation Lawyers for Injured Boston Employees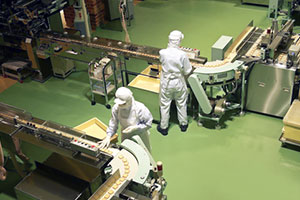 Food and beverage manufacturing plants turn raw materials into the products that we recognize: slices of processed turkey breast, bottles of orange soda, bottles of corn syrup, packages of cookies, and more. In the United States, food processing plants make up about 14.7% of the value of all shipments from manufacturing plants. Meat manufacturing makes up a large percentage of food manufacturing plants. If you suffer food manufacturing injuries on the job, the skillful Boston workers' compensation lawyers at Pulgini & Norton may be able to help.
Food Manufacturing Injuries
Food manufacturing is an industry with a very high rate of injury. If you work at a food processing plant, you may need to cut, trim, process, and package food items to be sold in stores around the country. Often, this work is strenuous and requires repetitive exertion involving undue stress on very specific areas of the body. It may also require you to work with dangerous equipment and in extreme temperatures. If you suffer injuries on the job, you may need time off from work to recover. You may also need to ensure that your medical treatment is paid.
For workers, it may be financially catastrophic to suffer a serious injury. Workers' compensation is a system that was designed to provide medical and disability benefits to workers without the need to prove fault. In most personal injury lawsuits brought in civil court, a plaintiff must prove that the defendant's negligence caused their injuries, and the defendant, in turn, has an opportunity to show that the plaintiff's negligence caused the accident. Workers' compensation bypasses this system and allows a worker to recover benefits without proving any person or entity's fault.
Unfortunately, insurers do not always accept liability for legitimate claims. You should not assume that liability has been accepted because you start to receive benefits. The first 180 days after an accident is a period known as the pay-without-prejudice period. During this time, insurers will continue to investigate and evaluate your claim. This means that, for example, they may review your social media postings or look into your medical records to determine whether you are truly disabled. They are most likely to do this with regard to injuries that are not shown with clear, objective measures, such as soft tissue injuries that do not show up on an X-ray or MRI scan. They are less likely to do this if, for example, you suffer a crushing injury due to an accident with faulty machinery.
As long as work was a major cause of your injury, you should be able to recover benefits even if you have a pre-existing condition. Your work accident need not be the predominant cause of your injuries. Instead, you may recover benefits if a compensable injury combines with a prior medical condition or injury that you sustained, such that the disability was prolonged or necessitated medical treatment. For example, if you were previously in a car accident and sustained back pain, which did not cause you trouble for a period of time, and then you twist and lift repeatedly on the job to fulfill a work task and eventually develop a herniated disc, you may be able to recover benefits because the twisting and lifting were a major cause of the injury. They may not be more than 50% responsible for the overall pain, but you may still be entitled to benefits for the exacerbation. This distinction makes it important to secure the services of a knowledgeable attorney to evaluate your claim and ensure that it is presented in a persuasive way.
Retain a Boston Attorney for Your Workers' Compensation Claim
If you suffer work-related food manufacturing injuries, you have the right to obtain workers' compensation benefits. Before accepting a denial of your claim, you should discuss what happened on the job with a Boston lawyer. At Pulgini & Norton, our knowledgeable work injury lawyers can represent workers in claims arising out of dangerous practices in many different industries. We handle claims in Lowell, Newton, and Braintree, among other Massachusetts cities. Contact us online or call us at 781-843-2200 for a free appointment.