Information Technology Workers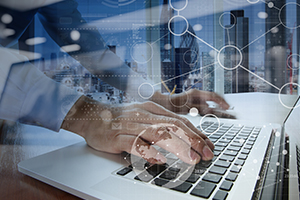 Job Injury Lawyers Assisting Employees in Boston and Surrounding Areas
As an information technology worker, you may assume that your job is hazard-free. The Bureau of Labor Statistics has reported that workers' compensation injuries in the IT field are 40% less than average. However, IT workers face the possibility of injury as well. Some common on-the-job injuries include falls, tripping over an object, transportation accidents, carpal tunnel syndrome, and other repetitive stress injuries. Workers' compensation insurance is coverage that may pay for the medical bills and lost wages associated with these injuries. If you are an information technology worker who has been hurt or made sick on the job, the Boston workers' compensation attorneys at Pulgini & Norton may be able to help you file a claim and represent you throughout the process.
Seeking Workers' Compensation Benefits as an Information Technology Worker
Like most businesses in Massachusetts, technology companies are usually required to carry workers' compensation insurance. However, workers' compensation is only for employees, and information technology companies often have a mix of employees, consultants, subcontractors, and freelancers. In some cases, one or more workers may be misclassified as an independent contractor.
Our state strongly presumes that workers are employees. There is a three-prong test to decide whether you are an independent contractor or an employee. This involves examining the extent to which you take direction in your work duties, whether the service you provide is within or outside the company's regular business, and whether you customarily provide services in an independently established business that are like the services that you provide to the company. Your employer must be able to show that all three aspects are in its favor to deny you workers' compensation benefits.
The system was set up to make sure that you would be able to get benefits if you were injured or disabled on the job and that you would not need to prove fault or lose compensation because you were partially or fully to blame for your injuries. However, it is common for insurers to deny that injuries, especially injuries like carpal tunnel syndrome, are job-related. Even valid claims may be denied. At any of the proceedings to decide the outcome of your claim, the insurer will have experienced and skillful legal representation. It is important that you have representation too.
If you are disabled by a job-related injury for a period of time, you may be able to recover temporary total disability benefits, temporary partial disability benefits, or permanent total disability benefits. These types of benefits are determined based on your average weekly wage as well as the degree to which you are incapacitated.
Protect Your Rights by Retaining a Workers' Compensation Attorney in Boston
Information technology workers face some distinctive concerns when bringing a workers' compensation claim. It is important to consult an experienced attorney who understands that there is a possibility of misclassification and knows how to push back against insurers' tactics. If you are an information technology worker who has been hurt on the job, Pulgini & Norton's Boston workers' compensation lawyers may be able to help. We serve claimants in Somerville, Hyde Park, and Brookline, among other Massachusetts communities. Call us at 781-843-2200 or complete our online form to set up a free appointment with a job injury attorney.