Impact Wrench Injuries
Workplace Accident Attorneys Helping Boston Employees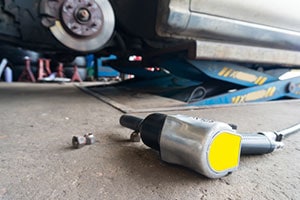 An impact wrench is a compressed air power tool that stores energy in a rotating piece and then delivers it with rotating force or high torque. Electric or hydraulic power may also be used with these tools. Many industries require the use of impact wrenches, including construction, automotive repair, maintenance of heavy equipment, product assembly, and other situations that require high torque output. There are safety guidelines that workers should use to reduce the likelihood of an accident. If you sustain impact wrench injuries on the job, the Boston workers' compensation lawyers at Pulgini & Norton may be able to help you recover benefits.
Impact Wrench Injuries
Impact wrenches are also known as air guns and impactors. Pneumatic air pushes through the air gun to make it easier and faster to perform construction tasks by getting rid of the need for manual rotation. Before you work with an impact wrench, you should take various precautions. For example, you probably should wear a facemask and goggles if the work area is dusty, and you should make sure that the area is clear so that you do not trip. You may also want to wear gloves and a jacket. You should ensure that the accessories that you are going to use with the impact wrench are compatible with it. You should also examine the impact wrench and accessories for breaking, cracking, and other signs of damage.
An impact wrench increases the likelihood of certain types of injuries, such as electrocution and injuries arising out of loose fasteners. Even if the blame for your injuries lies with your employer or you, you should be able to recover workers' compensation benefits for work-related injuries arising out of your use of an impact wrench.
Almost all employers in Massachusetts must obtain workers' compensation insurance, which will provide certain benefits if an employee is hurt or made sick by the job. The insurance benefits are supposed to be provided regardless of fault. In ordinary civil court, you would need to prove negligence or another theory by a preponderance of the evidence to recover damages, but in workers' compensation claims, you do not. In other words, your employer could have failed to train you, or you might have failed to prepare your work area, but you are still entitled to benefits as long as the injuries are work-related.
Workers' compensation benefits to which you may be entitled include disability benefits, medical treatment, medical mileage, vocational rehabilitation, scars, disfigurement, loss of function, and more. You should let your employer know right away if you are injured by an impact wrench, even if you do not have strong symptoms, and even if it does not seem serious right away. When you wait, there is a greater likelihood that an insurer will question whether the injury happened at work or while performing some task outside work.
You should also document what happened to cause the injury. Ideally, you would keep documentation for yourself that includes precisely what happened and the names of any witnesses, and you should also notify the employer in writing of what happened. Sometimes employers require their employees to fill out an incident report, and in that case, you should keep a copy of what you wrote. It may also be helpful to keep a daily journal of your symptoms. Some workers belong to a union, and in that case, you should notify your union representative in addition to your employer.
Hire an Experienced Boston Attorney Following a Workplace Accident
If you need to obtain workers' compensation benefits as a result of impact wrench injuries in your workplace, you should consult the skillful Boston lawyers at Pulgini & Norton. You should discuss the facts of your claim with an attorney before assuming that an insurer's reasons for denying the claim are valid. Sometimes valid claims are denied. At Pulgini & Norton, our work injury lawyers advise workers on claims arising out of many different industries. We also handle claims in Quincy, Brookline, and Braintree, as well as other Massachusetts cities. For a consultation, contact us online or call us at 781-843-2200.