Quadriceps Injuries
Workers' Compensation Lawyers Assisting Residents of Boston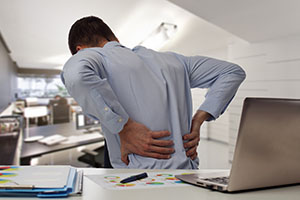 Quadriceps muscles are those located on the front of the thigh, such as the rectoris femoris, the vastus intermedius, the vastus medialis, and the vastus lateralis. When there is a strain, it tears one or more quadriceps muscles. Moreover, overuse may also result in an injury to a tendon or inflammation. Symptoms of strain may include sharp pain, swelling, and bruising. A severe strain may involve a complete or almost complete tearing of the muscle. If your quadriceps injuries are related to your job, you may be eligible for workers' compensation benefits. At Pulgini & Norton, our Boston workers' compensation lawyers may be able to help you obtain benefits.
Quadriceps Injuries
Tears or strains to any of the quadriceps muscles may happen when there has been no warm up prior to kicking, running, or jumping. The tear may range from some mild pulling to a total tear. Sometimes overuse may result in inflammation. Other injuries, such as contusions, result from a blow to the muscle, such as in a car accident. Often, resting, icing, compression, and elevation are applied to the injured area. Generally, rest is critical. Ice may need to be applied for the first 72 hours of the injury. In cases of a mild strain, self-care may be possible, but if pain persists, you should see a doctor.
The doctor may prescribe sports massage, rehabilitation, or even electrotherapy, as well as stretching and strengthening exercises. The strengthening exercises should not be done if they result in increased pain. Sometimes additional exercises are done to increase functionality after quadriceps injuries.
Once you realize that a quadriceps injury is work-related, you should let your employer know so that it can provide proper notice to its insurer. Under the Massachusetts workers' compensation system, most employers need to have insurance to cover employees who are hurt or disabled by workplace injuries, including quadriceps injuries.
You may be eligible for partial disability, temporary total disability, or total incapacity benefits through the workers' compensation system. Your degree of incapacity and your average weekly wage will factor into the amount of benefits that you receive. While you may start to receive checks from your employer's insurer fairly soon after the injury, you should not assume that the whole matter is resolved. There is a 180-day pay without prejudice period after the initial injury, during which time the insurance carrier may investigate whether it is required to pay.
In many cases, workers have trouble getting benefits after a workplace injury. The most common reason cited is a pre-existing condition. This may be a particular issue when a quadriceps injury is the basis of the claim. The insurer may investigate or conduct surveillance and discover, for example, that you play sports and claim that your injury is not work-related but is a result of a prior or current sports injury.
A pre-existing condition is not necessarily a valid reason to deny your claim. As long as your job was a major reason for your quadriceps injury, you should be able to get benefits. Your job need not even be a predominant cause of your injury. An experienced workers' compensation attorney may make a difference as to whether you can successfully obtain the benefits that you need when a pre-existing condition combines with a work-related injury to cause a disability.
Sometimes workers also have a basis for bringing a third-party personal injury lawsuit against a manufacturer of machinery, the owner of the premises, or the driver of a car for their quadriceps injuries.
Retain a Skillful Boston Attorney for Your Work Injury Claim
Quadriceps injuries may be painful and may necessitate medical care. If your quadriceps injuries were work-related, you have the right to obtain workers' compensation benefits for them. You should not assume that a denial of your claim is valid without first discussing it with a job injury lawyer. At Pulgini & Norton, our Boston attorneys can provide representation for workers' compensation claims arising out of many different medical conditions. We also handle claims in Hyde Park, New Bedford, and Cambridge, among other Massachusetts cities. For a consultation, contact us online or at 781-843-2200.