Clavicle Injuries
Workers' Compensation Lawyers Assisting Boston Employees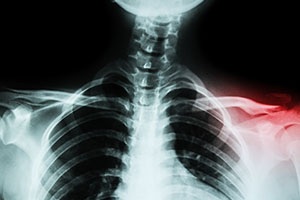 Located between the ribcage and the shoulder blade, the clavicle is the uniquely curved bone that links the arm to the body. The clavicle is located above many important blood vessels and nerves. One of the most common types of clavicle injuries is a clavicular fracture, which is a break in the collarbone that is classified by where on the bone it occurs. This type of fracture makes up about 5% of all fractures that adults sustain. They may happen if a worker falls onto their shoulder or outstretches the arm such that so much pressure is put on the bone that it snaps. At Pulgini & Norton, our Boston workers' compensation attorneys may be able to represent you before the Department of Industrial Accidents in your claim if you sustain job-related clavicle injuries.
Clavicle Injuries
Clavicle injuries may be extremely painful and make it difficult to move your arm. If the clavicle is fractured, your doctor may want you to wear a sling to keep the arm and shoulder in place while the bone is healing. When a clavicle sustains a complex fracture involving dislocated pieces of bone, it may be necessary to do a surgery. Clavicle injuries are often from trauma, and workers are usually aware that their collarbone is broken from the significant pain, a sagging shoulder, a bump over the break, and the inability to lift their arm.
Although injuries may not be treated surgically, it is important to see a doctor right away. It may be necessary to do physical therapy to build up arm strength or get pain medication. When two ends have a malunion, this may necessitate surgery, as may a situation in which there is a compound fracture. A worker may not be able to do their job for three or more months, but the exact length of time that the worker will be out depends on how severe the fracture is. A complex or compound fracture may take longer.
Workers who sustain clavicle injuries on the job may be able to recover benefits through a workers' compensation claim. Most employers are required to carry workers' compensation insurance in Massachusetts. This is a no-fault system that does not require a worker to prove that their injuries were caused through the negligence or fault of another party in order to recover certain limited benefits. These benefits may include medical benefits, disability benefits, physical therapy benefits, reimbursement for medication and medical mileage, loss of function, and vocational rehabilitation. The amount of disability benefits that you are entitled to receive for a clavicle injury depends on your average weekly wage and the extent of your disability. During the recovery, however, your disability status may change. For example, you might be able to return to light duty with restrictions on lifting weight or the types of activities that you are able to perform.
In most cases involving job-related clavicle injuries, they happened due to an acute trauma. You should let your employer know right away, verbally and in writing, and then seek medical care immediately, even if it involves losing work hours. You should keep the documentation reporting the incident to your employer and get a copy of anything that you are asked to sign, such as an internal report. You should write down the names of any witnesses to your accident, and you can write down a contemporaneous record of how you sustained the clavicle injury and what your symptoms are on a daily basis. You should date your entries on the day that you write them. If you are in a union, you should advise your union representative that you suffered a job-related injury.
Discuss Your Workplace Accident with a Boston Lawyer
If your clavicle injury happened on the job, you have the right to obtain workers' compensation benefits for it. You should not assume that an insurer's denial of your claim is valid without first discussing the matter with a workplace accident lawyer. At Pulgini & Norton, our Boston attorneys can advise you on workers' compensation claims arising out of many different medical conditions. We also handle claims in Brookline, Quincy, and Waltham, as well as other Massachusetts cities. For a consultation, contact us online or at 781-843-2200.