The Role of a Vocational Expert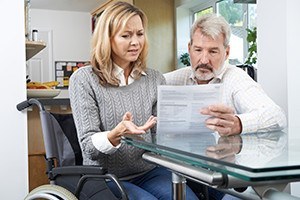 Workers' Compensation Attorneys Assisting Injured Boston Employees
If an insurer denies your claim for workers' compensation benefits, you may need to appeal the decision with the Department of Industrial Accidents (DIA). Part of the appeals process involves a hearing in which the insurer calls a vocational expert to testify as to the extent of your disability. Your attorney can cross-examine the vocational expert to challenge his or her opinion. A Boston workers' compensation claim lawyer at Pulgini & Norton can represent injured employees in hearings before the DIA. We can skillfully cross-examine vocational experts to help you assert your right to the benefits you deserve.
The Extent of Disability Benefits in Massachusetts
Under Massachusetts law, an individual can receive workers' compensation benefits if he or she has a job-related injury or illness. You can apply for and receive benefits if you qualify. They replace your lost wages, cover the cost of medical treatment associated with your disability, and provide vocational rehabilitation, among other forms of assistance. Your lost wages and other benefits are based on whether your disability is considered total and permanent, total but temporary, or partial.
Workers' compensation is a no-fault system, meaning that neither you nor your employer has to prove fault in order for you to receive benefits. However, your employer's insurer will decide whether you actually qualify for benefits based on the severity of your condition and whether you are still able to work.
An insurer may deny your claim from the outset or start paying you benefits during the pay without prejudice period before stopping. It may also ask the DIA to modify your benefits after it determined you were eligible. You would need to appeal to the DIA to fight the denial or request for modification. The appeals process includes a hearing, which is a legal proceeding in which both the insurer and the worker can call witnesses to testify on their behalf, including vocational experts.
The Role of a Vocational Expert
A vocational expert examines a person's ability to work and earn a living after a work-related disability. If the injury or illness prevents you from returning to your pre-injury work or wage level, the vocational expert will testify as to whether you have other employment opportunities available to you.
A vocational expert's opinion is based on a number of factors, including:
Your education and training;
Work experience;
Transferrable skills;
Physical limitations; and
Labor market.
The insurer can call on a vocational expert to testify that, based on these factors, you can still perform your pre-injury job or another comparable job. Challenging a vocational expert's opinion involves cross-examination, and possibly calling your own vocational expert, to discuss the actual requirements of your job and your ability to work after an injury or illness. We can provide the skilled representation you need to challenge a vocational expert's opinion.
Explore Your Options with a Boston Workers' Compensation Claim Lawyer
At Pulgini & Norton, we advise employees on their rights under workers' compensation laws. We are seasoned workplace accident attorneys with decades of experience representing injured individuals. We have counseled workers on their eligibility for benefits and represented them at proceedings before the DIA. If an insurer has denied your claim, we can help you appeal the decision. We can review your case, gather the necessary medical records and other evidence, and effectively cross-examine vocational experts. Based in Boston, our workers' compensation attorneys also represent clients in Malden, Hyde Park, and Braintree, among other communities. If your workers' compensation claim was denied, call us at 781-843-2200 or contact us online for a consultation.