Sanding and Blasting Injuries
Boston Lawyers Assisting Victims of Workplace Accidents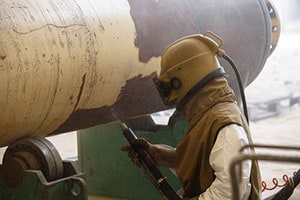 Sanding and blasting are considered effective methods of stripping a surface of surplus or foreign material. Sandblasting can make material look newer and give an even finish. It uses compressed air to blast gritty, abrasive material at an object, removing the object's surface and providing a clean surface. If you sustain sanding or blasting injuries on the job, you should be able to recover workers' compensation benefits. However, the process of obtaining benefits can sometimes be complicated and fraught with challenges. The Boston workers' compensation attorneys at Pulgini & Norton may be able to provide the legal representation that you need to get a favorable outcome.
Sanding and Blasting Injuries
Sand used to be the most commonly used material for blasting in order to remove surface materials. However, after people became aware that the lung disease silicosis was caused by inhaling the sand dust, other materials started to be used, such as steel grit, ground nut shells, steel shot, glass beads, copper slag, and various powder abrasives. Typically, blasting is a careful and controlled procedure that involves the use of an abrasive, an air compressor, and a blaster nozzle. Blasting can occur as a technique for small-scale glass decorations, or it can be used on bridges and other large structures.
Sandblasting injuries are common, particularly if the appropriate precautions are not taken to guard against injuries. For example, the equipment used to blast must be properly maintained and wired. Injuries may also arise if a worker fails to use proper personal protections. Additionally, breathing in dust from various chemicals that were present in the substrate of the object being blasted or from the sand or other abrasive can result in silicosis or other lung damage. Sometimes a blaster not wearing earplugs damages their hearing. Sometimes the steam from this activity can result in devastating burns and a loss of limbs or a need for surgery.
There is a dead man switch that shuts off the equipment when the blaster is not holding it down. When it is properly used, a blaster who drops a hose is protected because the flow of abrasive material is stopped by the switch not being held down. However, in some cases, blasters put something under the switch to push it down, and this can result in the equipment not shutting off as it should, and the hose can spray everybody in the vicinity of the hose.
Workers' compensation was designed to make sure that workers are able to recover compensation regardless of fault. In civil court, you must typically prove your case against a defendant by a preponderance of the evidence. In workers' compensation claims, you do not need to show that the defendant was negligent or reckless, and your ability to secure benefits is not reduced by your percentage of fault for an accident. In other words, you could have caused your own injuries by misusing the equipment or the dead man switch, and you would still be able to recover benefits. In exchange for this certainty, however, you do not have the right to sue your employer or a coworker for a blasting injury. You may have a third-party claim against a manufacturer if the equipment is dangerously defective.
In practice, however, bringing a workers' compensation claim does not necessarily result in a prompt acceptance of liability and the payment of benefits. Even if you do receive payment, you should not assume that the insurer has accepted liability. Instead, the insurer has a 180-day pay-without-prejudice period. During that time, the insurer may still be investigating your claim and conducting surveillance to determine whether it has an obligation to pay. Representation by an experienced workers' compensation attorney can make a difference to your claim.
Hire an Experienced Boston Attorney After Suffering Workplace Injuries
If you need to obtain workers' compensation benefits as a result of sanding or blasting injuries in your workplace, you should consult the experienced attorneys at Pulgini & Norton. You should discuss the facts of your claim before assuming that an insurer's denial of it is valid. At Pulgini & Norton, our Boston attorneys can advise workers on claims arising out of many different industries. We also handle claims in Andover, Brookline, and New Bedford, among other Massachusetts cities. For a consultation with a workplace injury lawyer, contact us online or call us at 781-843-2200.