Scarring and Permanent Disfigurement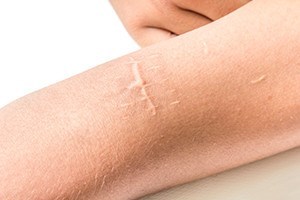 Workers' Compensation Lawyers Dedicated to Assisting Boston Employees
The workers' compensation attorneys at Pulgini & Norton provide capable representation to victims of job-related accidents and illnesses in Boston and beyond. Our legal professionals have over four decades of experience handling Massachusetts claims. If you were permanently scarred or disfigured by a job-related accident, we can help you seek the benefits you need for your injury.
Scarring and Permanent Disfigurement
If you were hurt at work, you may have suffered scarring or permanent disfigurement. These are often among the most distressing types of injuries that a person can sustain. They have a physical impact on a victim, sometimes requiring multiple surgeries and rehabilitative care, but they also have a mental and emotional impact on the injured individual and his or her family.
Various work incidents can cause scarring or disfigurement, including accidents that involve:
Explosions or fires
Machinery or power tools
Chemicals or similarly hazardous materials
Falls from cranes or other elevated platforms
You can receive workers' compensation benefits if you were hurt while performing job-related functions. The state requires all employers to carry this type of insurance, which provides coverage for medical costs associated with the injury, lost wages, vocational rehabilitation, and other benefits. Wage benefits are based on whether the incident left you with a partial disability, temporary and total disability, or permanent and total disability. They are paid over a specific period of time based on your injury's classification, although you can receive wage compensation for the remainder of your life if your condition is permanent and you are unable to work.
In addition to these benefits, you can also receive financial compensation if you were scarred or permanently disfigured as a result of an accident. Under the Massachusetts Workers' Compensation Law, an injured employee is entitled to compensation for specific types of harm, such as bodily disfigurement, loss of hearing, eyesight, or amputations. This benefit is a one-time payment made in addition to other workers' compensation benefits.
Permanent loss of function and disfigurement benefits are calculated by multiplying the state's average weekly wage at the time of the injury by a factor based on the gravity of the injury. For instance, a worker can receive a sum equal to the state's average weekly wage multiplied by 43 if his or her dominant arm was amputated as a result of the accident. In most cases, you cannot receive disfigurement benefits for a purely scar-based injury, unless the injury is to your face, neck, or hands. For these types of scar-based injuries, you can receive a one-time lump sum payment of up to $15,000 for your disfigurement.
Permanent loss of function and disfigurement benefits are generally awarded if the claimant otherwise has a permanent, temporary, or partial disability. An insurer may try to limit your workers' compensation benefits by minimizing the severity of your injury, claiming that you only suffered a scar-based injury, or denying that your injury is work-related. If your claim is denied, you may have to appeal to the Department of Industrial Accidents. You would need to demonstrate that the injury was job-related and also submit medical evidence to show the severity and location of your disfigurement, including a description of the scar and a percentage of loss of function, if any.
Explore Your Options with a Work Injury Attorney in Boston
At Pulgini & Norton, our work injury lawyers offer personalized representation to individuals in Boston suffering from job-related accidents or illnesses. If you were permanently disfigured as a result of your injury, we can help you pursue the full amount of benefits you are entitled to receive under the law. We can also advise you on any settlement offers from your employer's insurer, and on whether you may have a claim against a third party. We represent injured workers throughout Massachusetts communities such as New Bedford, Malden, and Andover. Call us at 781-843-2200 or complete our online form to arrange a consultation.