Elbow and Shoulder Injuries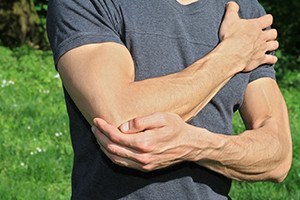 Workers' Compensation Lawyers Protecting the Rights of Boston Residents
Elbow and shoulder injuries can develop over a long period of time as a result of repetitive motions on the job. This type of injury can take a long time to heal, and you may not be able to work during the recovery period. In some cases, these injuries require surgery or long-term physical therapy. If your elbow or shoulder is harmed at a job in Boston or the surrounding area, you may be able to obtain workers' compensation benefits. The attorneys at Pulgini & Norton can represent people who suffer injuries due to their jobs.
Elbow and Shoulder Injuries
Some employees who are hurt on the job worry that they must see the employer's designated doctor. After suffering elbow or shoulder injuries at work, you have the right to be treated by the doctor of your choice, as long as he or she accepts workers' compensation insurance. You may, however, have to see the employer's doctor for an initial evaluation if the employer has a preferred provider plan.
It is crucial to receive good care for injuries to the elbow or shoulder, since these joints can be more complicated to treat and may take a long time to heal. The rotator cuff in the shoulder, for example, is extremely complex, and an injury to it can affect you for life. If a doctor does not appropriately treat your rotator cuff, you can continue to have problems with the biceps, neck, and shoulder. Insurance doctors often favor conservative treatments that can result in serious complications. An experienced lawyer can fight for you to get the full and appropriate care for this injury, such as a surgical repair when necessary.
There are five steps of appeal if an insurer denies your claim. One stage is the conference stage, and if the case is appealed from that stage, you will need to be examined by an impartial physician who will file a report in your case for the judge. If the doctor's report does not address all of the issues that it should, it may be possible for both sides to submit additional medical evidence.
Compensation you may be eligible for with elbow or shoulder injuries includes permanent and total incapacity benefits, temporary total incapacity benefits, partial incapacity benefits, permanent loss of function, medical benefits, and vocational rehabilitation benefits.
If a workers' compensation claim for elbow or shoulder injuries is approved, it will undergo a utilization review. The insurer's goal for this review is to monitor your treatment and determine whether the treatment is medically necessary and effective. The utilization review helps the insurer determine whether it will pay for the treatment recommended by the doctor. You and the doctor can appeal an adverse utilization review determination.
Consult a Boston Attorney When Pursuing a Workplace Accident Claim
If you suffer elbow and shoulder injuries at a job in Boston, you should enlist an experienced workplace accident lawyer. It is important to get the care and compensation that you need for your harm. The attorneys at Pulgini & Norton also represent injured individuals in Brookline, Lowell, Braintree, and other Massachusetts cities. Call us at 781-843-2200 or contact us via our online form for a free consultation.