Hand and Wrist Injuries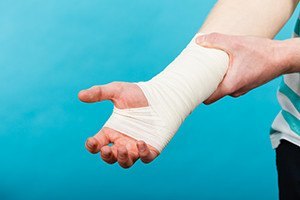 Experienced Workers' Compensation Attorneys in Boston
The dedicated workers' compensation lawyers at Pulgini & Norton represent individuals throughout the Boston region who have sustained job-related hand and wrist injuries. We have more than 40 years of combined experience helping employees seek the benefits they need after an accident. If you have damage to your hand or wrist as a result of your job, we can help you pursue compensation for your harm.
Hand and Wrist Injuries
The hand and wrist function as a unit, and damage to a single area can affect how the entire unit functions. They are comprised of small bones, cartilage, and ligaments that allow them to move with dexterity and precision. These parts are closely knit together, which means that damage to any of these components can affect the functionality of both the hand and wrist.
These injuries usually consist of sprains, fractures, or burns. A sprain is damage to the ligaments, or the band of fibrous tissues that connects one bone to another. A sprain can be as minor as a tear, or it can be a complete break or rupture of the ligament. A fracture refers to a break, crack, or dislocation in a bone. Burns can also damage nerves and tissue in the hand and wrist.
Carpal tunnel syndrome is another common type of hand and wrist injury. It occurs when the nerve that runs from the forearm into the hand is compressed, causing pain and numbness. Carpal tunnel syndrome is usually the result of repetitive motion, vibrating tools, or the use of excessive force.
Pursue a Claim for Benefits
A hand and wrist injury can occur if these areas are damaged as a result of the type of work you perform. You are more likely to hurt them if your work involves manual or physical labor, but the cumulative effect of repeating the same movements can also cause damage. If you have a job-related hand and wrist injury, you may be eligible for benefits.
In Massachusetts, employers have to carry workers' compensation coverage, which provides reasonable and necessary medical care for job-related harm. It also provides compensation for a portion of a person's lost wages if the disability lasts for more than five days. The extent of your disability determines the amount and duration of wage benefits. If your disability is total and permanent, you can receive up to two-thirds of your average weekly earnings for as long as it lasts. If the disability is total, but temporary, you can receive 60 percent of your average weekly wage for up to three years. If your disability is partial, you can get 75 percent of your temporary total wage benefits for up to five years.
Your injury may be so severe that you permanently lose function in your hand and wrist. Under Massachusetts workers' compensation rules, you may qualify for permanent loss of function or disfigurement benefits if you suffer certain severe types of harm, such as the amputation or permanent loss of function in your hand. The benefit is based on which hand is affected. If the injury is to your dominant hand, you can receive a one-time payment equal to 34 times the average weekly wage in Massachusetts at the time of your accident, and 29 times the average weekly wage if the harm is to your non-dominant hand. If you lose both your hands, the benefit is 77 times the average weekly wage.
Boston Lawyers Skilled in Work Injury Claims
The work injury attorneys at Pulgini & Norton capably represent Boston employees who were hurt on the job. If you damaged your hand and wrist at work, we can assess whether the accident makes you eligible for workers' compensation. Our attorneys can discuss the types of benefits you may be entitled to receive and help you throughout the claims process. If your compensation has been denied or reduced, we can assist you in filing an appeal with the Department of Industrial Accidents. We serve individuals throughout Braintree, Medford, and Newton, as well as other towns throughout Massachusetts. Call us today at 781-843-2200 or fill out our online form to arrange a consultation.