Violence in the Workplace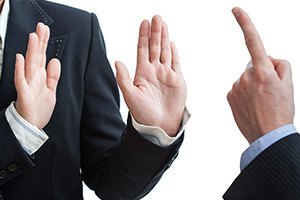 Workers' Compensation Attorneys Assisting Boston Employees
What is workplace violence? According to the Occupational Safety and Health Administration (OSHA), it consists of any act or threat of physical violence, intimidation, or harassment at work, and about two million Americans are victims of it. Due to the prevalence of workplace violence, OSHA field staff members follow a new set of procedures when responding to complaints of workplace violence or inspecting industries that are considered at high risk for workplace violence, such as health care and late night retail. Moreover, the workers' compensation lawyers at Pulgini & Norton may be able to assist Boston residents in pursuing benefits if they have been hurt because of violence in the workplace.
Violence in the Workplace
Some work situations that may give rise to attacks include disgruntled employees, unknown criminals, displaced domestic violence or sexual harassment, working with unstable individuals such as prisoners, working with patients with mental illness or other physical disorders, late night work, work in high crime areas, delivery jobs, law enforcement, and working in places where alcohol is sold.
In Massachusetts, injuries that happen "on the job" are usually governed by the Department of Industrial Accidents (DIA), which administers the Workers' Compensation Act (Massachusetts General Laws, Ch. 152). This system is generally more streamlined and provides benefits faster to those who qualify than the judicial civil system, where non-workers can bring personal injury claims. Usually, an employee is limited to bringing a workers' compensation claim after being hurt by an act of workplace violence. In most cases, the employee can only file an ordinary personal injury lawsuit when an employer failed to carry the workers' compensation insurance that is required by law.
After a violent attack, an employee may have not only physical injuries but also psychiatric harm such as post-traumatic stress disorder, anxiety, or depression. These may have a physical component such as insomnia, rapid heartbeat, or digestive problems. Massachusetts provides benefits for emotional or psychiatric injuries that arise out of workplace violence. While a worker with no physical injury must meet a high burden of proof to recover benefits for emotional harm by showing that work is the predominant contributing cause of his or her disability, a case involving workplace violence is usually more straightforward. An experienced workers' compensation attorney can make a difference in how an insurer handles your claim.
Homicide is one of the leading causes of workplace death. A spouse and dependent children may recover death benefits through an employer's workers' compensation insurance if an employee dies due to workplace violence. These benefits include burial expenses up to $4,000, as well as weekly benefits equal to 2/3 of the decedent's average weekly wage up to the state average weekly wage (SAWW). These benefits can be provided to a surviving spouse as long as he or she does not remarry. However, if a surviving spouse remarries, an eligible dependent child can continue to receive $60 per week. The total amount paid to the child cannot exceed what the spouse was receiving.
Seek Legal Representation in Boston for a Work Injury Claim
At Pulgini & Norton, our work injury attorneys are knowledgeable advocates for Boston residents who are considering or bringing claims for benefits. Call us at 781-843-2200 or contact us via our online form for a consultation. We also represent workers' compensation claimants in Medford, Brookline, and Lowell, among other Massachusetts communities.