Crushing Injuries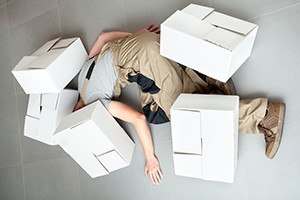 Workers' Compensation Lawyers Helping Residents of Boston
Crushing injuries can happen in a number of different ways at workplaces. For example, a factory worker may be crushed by a piece of machinery. Someone working at a construction site might be crushed by a falling object, such as a concrete block. Crushing injuries may require the amputation of limbs. They may cause permanent disfigurement or nerve damage. They often cause a loss of function. The workers' compensation attorneys at Pulgini & Norton may be able to assist people in the Boston area with pursuing benefits after a crushing injury on the job.
Seeking Benefits for Crushing Injuries
If your crushing injury results in a permanent loss of body function, or disfigurement or scars on your face, you may qualify for a one-time payment, which is paid in addition to medical bills and lost income. The amount paid for loss of function or disfigurement depends on the location and severity of the injury.
Other benefits to which you may be entitled include medical benefits, temporary total incapacity benefits, partial incapacity benefits, and permanent incapacity benefits. After a crushing injury, you will need medical care. You are entitled to see a treating physician of your choice, although in some cases you may need to see a physician designated by your employer from within its preferred provider arrangement. Additionally, an insurer has the right to send you to a doctor of its choice periodically so that your incapacity related to the crushing injuries can be evaluated.
You can potentially receive medical benefits as long as you need medical or hospital care due to a work-related crushing injury. In addition to reasonable medical care, the benefits may include prescription reimbursements and mileage reimbursements for your medical visits related to the job-related injury. The insurer issues an insurance card that includes the claim number, and you will need to give the number to your doctor so that the doctor can get pre-approval for whatever treatment he or she wants to use.
You will qualify for permanent incapacity benefits only if you are completely unable to do any sort of work due to your crushing injuries. These benefits can last your whole life, and you may get 2/3 of your average weekly wage or, at a minimum, 20% of the state average weekly wage. You can apply for them before exhausting your temporary benefits, and over the years you are entitled to yearly cost-of-living-adjustments.
In some cases, it may be appropriate to negotiate a lump sum payment as a settlement between you and the insurer. This is a one-time payment that replaces the weekly compensation check you might otherwise receive, depending on the outcome of the appeals process. Generally, you give up rights in order to get a lump sum payment, so before you agree to it, you should consult an attorney who is experienced in these types of benefits. There may be an impact on the amount of SSDI benefits you can receive, and this is an issue you should consider.
Consult a Boston Attorney after a Devastating Workplace Accident
If you suffer a workplace accident in Boston, you may need to enlist a lawyer to help you seek the compensation that you need. The attorneys at Pulgini & Norton also represent injured individuals in Brookline, Lowell, Medford, and other Massachusetts cities. Call us at 781-843-2200 or contact us via our online form for a free consultation.