Jackhammer Injuries
Boston Attorneys Helping Workers' Compensation Claimants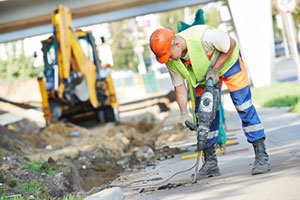 Construction tools may cause serious injuries. Among the construction tools that cause harm is the jackhammer. A jackhammer is a pneumatic or electro-mechanical tool that is used to chisel and hammer at the same time. Many are powered by compressed air, while others are powered by electricity. If you suffer jackhammer injuries on the job, you may benefit from consulting a skillful Boston workers' compensation lawyer. At Pulgini & Norton, we may be able to help you.
Jackhammer Injuries
Most people can see how powerful a jackhammer is just by watching it being used on a jobsite. What they may not see is that there are huge vibrations being sent up through a construction worker's hands, arms, and torso. One of the most common jackhammer injuries is hand-arm vibration syndrome. Although it starts with tingling and numbness, as it proceeds, it may cause substantial pain and swelling. Eventually, a worker may suffer from a lack of fine motor ability—they may become unable to pick up little things.
Sometimes you can guard against hand-arm vibration syndrome with anti-vibration gloves. However, these only guard against the worst effects, and if you have developed this condition over a long period of time, the gloves may not be sufficient. If you are a construction worker or another employee in Massachusetts who develops a medical condition like hand-arm vibration syndrome on the job, you may be entitled to workers' compensation benefits.
One type of benefit that may be available is loss of function benefits. This benefit is a single payment for loss of function, and it is paid on top of other benefits like medical benefits and disability benefits. For example, if you completely lose the use of your hand, you may be able to get a specific one-time payment in addition to benefits related to your disability. The amount of the payment relates to where the function was lost and how severe it is. Disability payments relate to your inability to work, regardless of where the loss of use is.
You may get temporary or permanent disability benefits. Permanent benefits are available and paid as long as you remain unable to work. They constitute two-thirds of your average weekly wage in the year prior to developing a job-related medical condition. Temporary total benefits are of a limited duration and constitute 60% of your average weekly wage prior to developing a job-related medical condition.
You can reduce the degree to which you are harmed by seeking medical treatment right away. You should notify your employer right away if you believe that you have developed a medical condition due to your use of a jackhammer on the job. Your employer is entitled to designate a doctor who operates within a preferred provider arrangement. After the first treatment, you are entitled to choose your own doctor, and you may switch once without getting permission from the insurer. After that, however, you will need to get permission, which makes it important to choose carefully when you first choose.
You may need to submit to an exam by a physician chosen by your insurer in what is called an independent medical examination. The insurer or a self-insured employer may need to pay for the exam. It is typically necessary to undergo this exam just after the injury happens or shortly before an insurer wants to reduce or terminate weekly disability payments.
You may be concerned when you are asked to undergo the independent medical exam. It may be helpful to retain a workers' compensation attorney before going to the exam. In spite of their name, the exams are not truly independent. The insurer chooses a doctor to write a report, and most often they choose doctors who are not sympathetic to claimants.
Contact a Knowledgeable Workers' Compensation Attorney in Boston
If you suffer jackhammer injuries, you have a right to obtain workers' compensation benefits for them. You should not assume that an insurer's denial of your claim is valid without first talking to a Boston lawyer. At Pulgini & Norton, our experienced workplace accident attorneys can advise you on claims arising out of many different medical conditions. We handle claims in Andover, Braintree, and Waltham, among other Massachusetts cities. For a free consultation, contact us online or at 781-843-2200.