Foundry Workers
Job Injury Lawyers Advocating for Boston Employees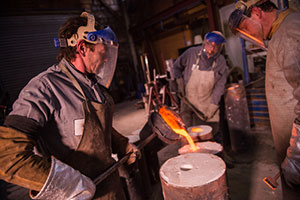 Foundries are filled with heat, fumes, dust, and noise. Each day, about 270 workers are injured in iron and steel foundries. This is about 70,000 each year, of which about 70 die from fatal injuries—more than twice the rate of workers in other manufacturing industries. There are numerous risks in foundry work, including chronic lung diseases, hearing loss, cancer, chemical and metal poisoning, and heart disease. If you are a foundry worker who has suffered a work-related injury, you should bring a claim with the assistance of our Boston workers' compensation lawyers.
Accidents Involving Foundry Workers
One of the biggest health risks for people working in foundries is the exposure to numerous toxic substances, including silica dust, phenol, acid fumes, isopropyl alcohol, formaldehyde, chlorine, aluminum, nickel, cobalt, cadmium, and lead. When a foundry is involved in spraying activities, workers may also be exposed to solvents. Small particles of hazardous materials are not visible to the eye, and therefore workers are not always aware that they are inhaling them or otherwise coming into contact with them.
Exposure over many years to these substances may cause diseases. For example, if you are exposed to silica for a long period of time, you may develop silicosis. This is a type of scar tissue in the lungs that eventually results in problems breathing in oxygen. Sometimes silica exposure may result in lung cancer. There are numerous assessments that employers are supposed to make in order to keep the workplace safe. However, not all employers follow these regulations, and sometimes the regulations are insufficient to guard against an accident.
In some cases, workers' own fatigue or negligence also contributes to their injuries. However, workers' compensation is a system designed to provide benefits without needing to prove fault. In exchange for this system, workers do not have the right to sue their employer for injuries in civil court. Workers' compensation is a no-fault system, but too often, insurers do not pay valid claims.
The benefits to which you are entitled include reasonable, adequate medical treatment. This includes the cost of reimbursement for related losses, such as medical mileage and prescription drugs. When you first visit the doctor for a scheduled visit, your employer may select a doctor within its preferred provider arrangement. After that, you will be entitled to choose your own provider, and you will have the right to change this provider once without permission from the insurer. However, the insurer may send you to see a doctor of its choice to evaluate your disability.
After the insurer has been notified of your claim, you will need to obtain an insurance card with a claim number. The doctor may use the claim number to bill the insurer directly, rather than billing you. If you do not receive the card fairly quickly after suffering an injury or illness, you should contact the insurer for the claim number and to let them know that you did not receive the card.
You may also receive disability benefits. These are benefits that you receive based on the extent of your disability. If you are not able to work for more than five calendar days, you may recover permanent or temporary and partial or total disability benefits. Generally, you are not compensated for the first five days of your disability unless you are disabled for 21 calendar days. These days do not need to be consecutive.
If you are only temporarily disabled, such as if you suffer a broken leg, your disability benefits are temporary. They will be 60% of your gross average weekly wage, which means that they are your gross earnings (including overtime) divided by the number of weeks that you worked at your job over the last year, multiplied by 60%. The most that you will be able to recover is the State's Average Weekly Wage (SAWW) at the time that you sustained the injuries. Permanent disability allows you to get two-thirds of your average weekly wage.
Retain a Workers' Compensation Attorney in the Boston Area
If you need to obtain workers' compensation benefits, you should consult the experienced Boston attorneys at Pulgini & Norton. You should discuss the facts of your claim before assuming that an insurer's denial of it is valid. At Pulgini & Norton, we can advise workers on claims arising out of many different industries. Our workplace accident lawyers handle claims in Quincy, Brookline, and Weymouth, among other Massachusetts cities. For a free consultation, contact us online or at 781-843-2200.