Injuries Caused by Mechanical Failure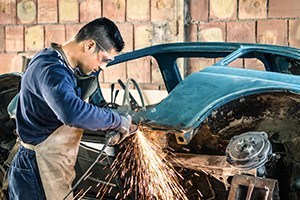 Legal Guidance for Workers' Compensation Claimants in Boston
Mechanical failures in equipment can result in serious and catastrophic harm to workers. Failures can occur in grinders, compactors, welders, presses, hydraulic hoses, pumps, fans, turbines, and many other parts of equipment. Any sort of breakdown due to age or defects in these components can result in a failure. Further sources of failure include surge overloads, inadequate cooling, oil contamination, or broken gears. Employees who work closely with equipment can also be hurt due to a lack of safety training or lack of protective gear. The injuries caused by mechanical failure in Boston workplaces can be devastating, but the workers' compensation attorneys at Pulgini & Norton are committed to pursuing benefits for people hurt on the job.
Injuries Caused by Mechanical Failure
Common injuries caused by mechanical failure include permanent disfigurement, scarring, burns, loss of vision, crushed limbs, broken bones, amputation, traumatic brain injury, spinal cord damage, and electrocution. Often, these injuries permanently change a worker's life, rendering him or her unable to work in the same job or sometimes at all for the rest of his or her life. You do not have to exhaust your right to temporary disability benefits before applying for permanent disability benefits.
Permanent disability benefits are two-thirds of the injured worker's average weekly wage over the 52 weeks before the injury. At a minimum they will be 20% of the state average weekly wage (SAWW). Workers are entitled to annual Cost of Living Adjustments (COLA) as well.
In addition to disability benefits, you qualify for medical benefits if you suffer a work-related injury requiring medical attention. This means you will be entitled to adequate, reasonable medical care, prescription drug reimbursement, reasonable medical equipment, and mileage reimbursement from doctor's appointments and the hospital. Your employer is entitled to designate a health care provider within its preferred provider arrangement for your first visit to the doctor. However, after that you can choose your own doctor. These benefits are available as long as you require medical or hospital services based on injuries arising out of the mechanical failure.
Another type of benefit that you may qualify for after a mechanical failure injury at work is for disfigurement or scarring. These benefits are for people who permanently lose specific bodily functions or suffer scarring or disfigurement on their faces, necks, or hands. The benefit is a one-time payment that is added to other payments for things like medical bills and lost wages. The amount of the payment depends on where the disfigurement or lost function is located and how severe it is.
In some cases, you, the insurer, and your employer can settle on a lump sum settlement. This is a one-time payment that replaces weekly compensation checks. It is usually a good idea to consult an attorney before signing anything or accepting a lump sum, since you are usually giving up some rights. In most cases, the lump sum settlement will need to be approved by an administrative judge for the Department of Industrial Accidents.
Pursue a Work Injury Claim by Enlisting a Boston Attorney
At Pulgini & Norton, our work injury lawyers are dedicated to helping people in Boston and the surrounding communities seek workers' compensation benefits for injuries caused by mechanical failure. Call us at 781-843-2200 or contact us via our online form for a consultation. We also represent workers' compensation claimants elsewhere in Massachusetts, including in Braintree, Hyde Park, and Andover.