Foot and Ankle Injuries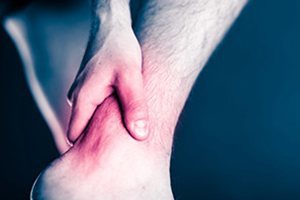 Workers' Compensation Lawyers Helping Residents of Boston
Many workplace accidents cause foot and ankle injuries. More than a quarter of the body's bones are located in the feet and ankles. Each of these bones is linked to muscles, tendons, and ligaments, and an injury to any of them can cause pain in the feet and ankles that can stop you from being able to work at full capacity. If you suffer a foot or ankle injury, your mobility will likely be restricted. This may affect your job. Since healing in these parts of the body can be very slow, you may need to stay off your feet for a long period of time. At Pulgini & Norton, our workers' compensation attorneys can help people in the Boston area pursue benefits for job-related foot and ankle injuries, so that they can focus on their recovery.
Pursuing Benefits for Foot and Ankle Injuries
Sprains, broken bones, puncture wounds, lacerations, or crushing injuries can severely limit your ability to work. There are numerous scenarios in which foot and ankle injuries may occur. For example, a coworker could cause an accident by dropping a heavy object or rolling over your foot with a forklift. You could suffer these injuries at work by stepping on a sharp object, or you could suffer an amputation of the foot when dealing with malfunctioning machinery. Since you have to stay off a foot or ankle for it to heal, you may experience additional strain in other parts of the body.
The Massachusetts workers' compensation system is designed to compensate workers regardless of their own fault for an accident when they suffer a job-related injury. An injured worker does not have to prove fault, but except in very rare circumstances, he or she cannot also sue an employer that is at fault or that created unsafe work conditions.
Benefits that may be available include medical expenses (such as mileage to doctor's appointments), lost wages, and in some cases vocational rehabilitation. The amount of benefits you can obtain depends on your average weekly wage and the degree to which you are disabled by your accident. Pain and suffering damages that would be available in a personal injury lawsuit are not available through the workers' compensation system.
After you suffer a foot and ankle injury, you will need to obtain medical care. You should also notify your employer in writing. You have four years after learning of the connection between your foot and ankle injuries and a workplace accident to file a claim with your employer's workers' compensation insurer. If the insurer chooses to deny you benefits, you would need to appeal the denial with the Massachusetts Department of Industrial Accidents (DIA), which administers the workers' compensation law.
Discuss Your Workplace Accident Claim with a Boston Attorney
The workers' compensation system is easier to navigate with the help of an experienced attorney. If you suffer foot and ankle injuries on the job, you may be away from work for some period of time. The workplace accident lawyers at Pulgini & Norton may be able to help Boston residents pursue benefits through the workers' compensation system. We have assisted injured individuals in communities across Massachusetts, including Waltham, Weymouth, and Brookline. Call us at 781-843-2200 or contact us via our online form for a consultation.