Improper Use or Placement of Support Devices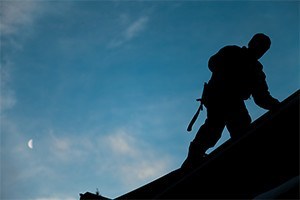 Workers' Compensation Attorneys Committed to Helping Boston Residents
Falls in workplaces due to the improper use or placement of support devices can result in serious injuries or even death. Accidents may occur in the context of workers on utility poles, on elevations near floor openings, or on balconies, rooftops, bridges, or embankments. The construction industry has the highest rate of falls, but they can occur in other industries as well when support devices are necessary but are improperly positioned due to slippery surfaces, improper angles, broken locks, or unprotected edges. If you have been involved in this type of accident in Boston or the surrounding area, the workers' compensation lawyers at Pulgini & Norton may be able to help you seek benefits.
Harm Caused by the Improper Use or Placement of Support Devices
Although falls are a leading cause of occupational injury, in many instances they are avoidable through proper training of workers and compliance with safety measures and OSHA regulations. Some of the injuries that may result from a fall include traumatic brain damage, loss of limb use, fractures, broken bones, and back injuries.
People who fall because of improper use of support devices can potentially recover workers' compensation benefits regardless of fault. This means that even if you, and not someone else at work, placed a ladder improperly and then you fell off the top rung of the ladder and suffered serious injuries, you might be able to recover these benefits. However, workers' compensation is also an exclusive remedy. That means that even if your employer placed the ladder improperly and you fell as a result, you will not be able to bring a civil suit for damages against your employer, except in very limited circumstances.
What if the insurer denies your claim or does not give the full scope of benefits you deserve? The dispute resolution process is triggered when the Department of Industrial Accidents (DIA) receives a claim form from an employee or an insurer's complaint. A conciliation, which is an informal meeting, is the first step. In attendance will be you or your lawyer, the insurer's attorney, and a conciliator. The goal of this proceeding is a voluntary agreement. When a voluntary agreement cannot be reached, your claim is referred to an administrative law judge for a conference.
The conference is also informal. The parties present the case to the judge, but no witnesses are called. Instead, the parties simply tell the judge what the witnesses would say at a formal hearing. You will need to show that you have a disability, that it is job-related, and that disputed medical bills were for necessary treatment. The judge will issue an order that tells the insurer to pay benefits or tells it not to pay. This order can be appealed. If the appeal is based on a medical issue, you will need to pay a fee to be evaluated by an impartial medical physician. The fee for this exam can only be waived if you prove you are indigent.
At that point, a formal hearing before the same judge is scheduled. This hearing involves the presentation of witnesses, and the judge's decision may be appealed on the basis of a legal error.
Consult an Experienced Boston Lawyer after a Workplace Accident
If you have been hurt in a workplace accident near Boston, you should enlist a knowledgeable attorney to guide you through the challenging dispute resolution process. At Pulgini & Norton, we represent workers in Brookline, Lowell, and Malden, among other communities throughout Massachusetts. Call us at 781-843-2200 or contact us via our online form for a consultation.